Romanian e-commerce market – EUR 7 billion in 2020, up 36% compared to 2019
In 2020 the local e-commerce market (purchases from Romanian merchants), e-tail and services, amounted to approximately 7 billion EURO, an increase by 36% compared to the previous year, based on the analyses of both external and internal data made by PayU, the leader of the online payements market in Romania.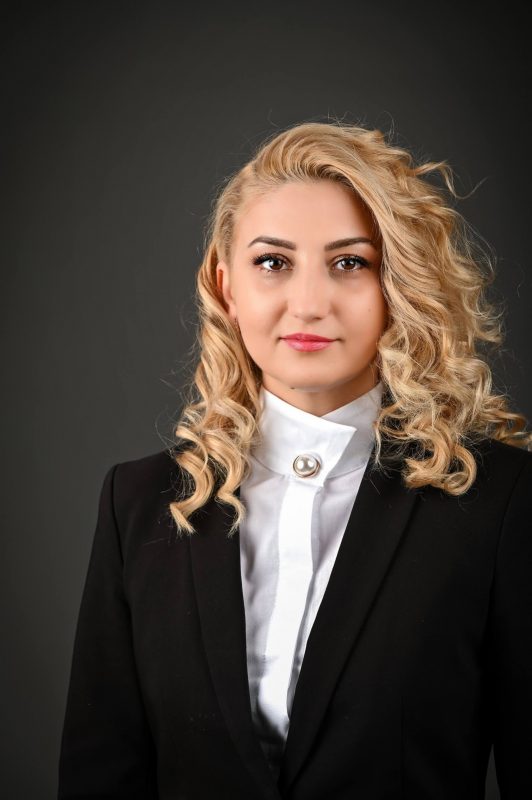 Elena Gheorghe, Country Manager PayU Romania, said:
E-commerce is one of the fastest growing sectors, and Romania is no exception, registering a positive evolution amid the COVID-19 pandemic, which would normally have occurred in years. This development has had a direct impact on the growth of e-commerce and the acceleration of online card payment adoption. The main players that supported this rapid growth were merchants and buyers.
E-commerce market evolution
Merchants who only had plans for online development before the previous year realized during the pandemic that, to be able to continue their activity, they had to adapt their processes to provide a full online experience. Also, merchants who were already working on online projects realized they had to accelerate their development to support the volumes and business opportunities online.
Consumers, on the other hand, discovered that they could buy and pay online and that the process was easy, fast, and secure. Other reasons with an impact on consumers' opting for online payments are the delivery in the proximity of or directly to the buyer and the expansion of the variety of products available had an impact on the choice of this method of payment.
"For 2021 we forecast an increase by at least 15% in the local e-commerce market (purchases from Romanian merchants), e-tail and services, in line with the estimated growth globally, which is 14.3%, added Elena Gheorghe.
There are also industries in 2020 that have developed specifically in this period of time and for wich PayU develops specialized online markets products: medical and educational services. The target of these industries is predominantly young one, with a strong inclination towards the e-commerce area.
We could also see an increase in terms of cross-border e-commerce, with top local players selling abroad. The growth in this area is not a surprise given that cross-border e-commerce has developed quite a lot and is estimated at 143 billion euros in Europe alone, according to Ecommerce News Europe. In this regard, PayU supports local merchants by being present in more than 50 markets with accelerated growth", said the PayU representative.
Romanians online payments behaviour
Romanians adopted more and more card payment than Românii au adoptat din ce în ce mai mult plata cu cardul when they paid online. Online card payment penetration rate increased by 50%, reaching 36% in 2020, with a maximum reported by some tarders over 50%. For 2021 we expect a 25% increase in terms of the number of transactions paid online and we expect the penetration rate of online payments by card to increase to 39%. The total volume processed by PayU almost doubled, and the number of processed transactions increased by 61%, reaching 72 transactions per minute. The average value of a transaction increased by 22%, to EUR 46 per transaction last year", Elena Gheorghe also said.
These figures are also the result of factors like:
– Increasing number of first-time online payments; even one of the top local banks announced that in the first months of the pandemic over 300,000 Romanians paid for the first time online.
– "Pay by click" payment option, that provide an extremely simple, secure and fast customer experience, as confirmed by the 117% annual increase in transactions paid with this option, reaching 38% of total payments with card made in 2020.
– The Instant Money Back option – through which the customer receives the money within a maximum of 30 minutes from the moment of confirmation of the return, a unique benefit in Europe offered by PayU Romania together with its partners.
The product categories where we registered significant evolutions are: IT&C (~ 120%), fashion, (~ 60%), insurance (~ 50%), home & deco (~ 150%), food (~ 200%), utilities (~ 50 %).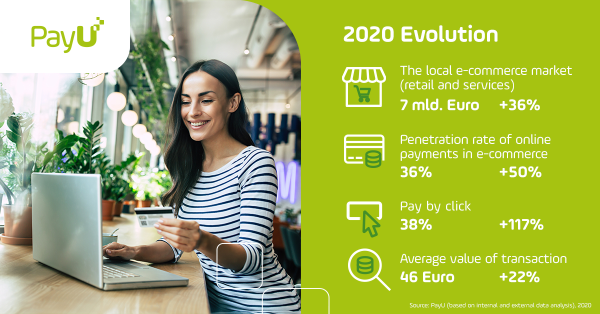 2021 chalanges and opportunities
The increasing number of customers coming to the online environment will continue to challenge e-commerce players to find ways to keep them online and meet their needs and expectations.
Elena Gheorghe thinks that the e-commerce industry needs to focus on providing a positive experience for buyers, with an online purchasing process that is as easy and optimized as possible. The standards of international merchants are high and the number of Romanians who buy cross-border is increasing. Therefore, there is also pressure on local merchants when it comes to using technologies to automate the online shopping process.