How will the new shopping behaviour look like we find out at Shopgrade 3
13 speakers, 4 panels. A full day dedicated to retail marketing, on June 3rd 2021, at the Herăstrău Complex, the Diplomat hall, where the 3rd edition of Shopgrade will take place. The event that grew from one year to another is concentrated on the discovering of the new normal in the shopping behaviour.
The COVID-19 pandemic had a strong impact on the entire world, changing perceptions, attitudes, realities. It set the whole imune, financial and survival system towards something that none ofus was expecting. We learned fast to adapt, survive, be as resistant and resilient as ever. And, at the same time, had unexpected, positive effects.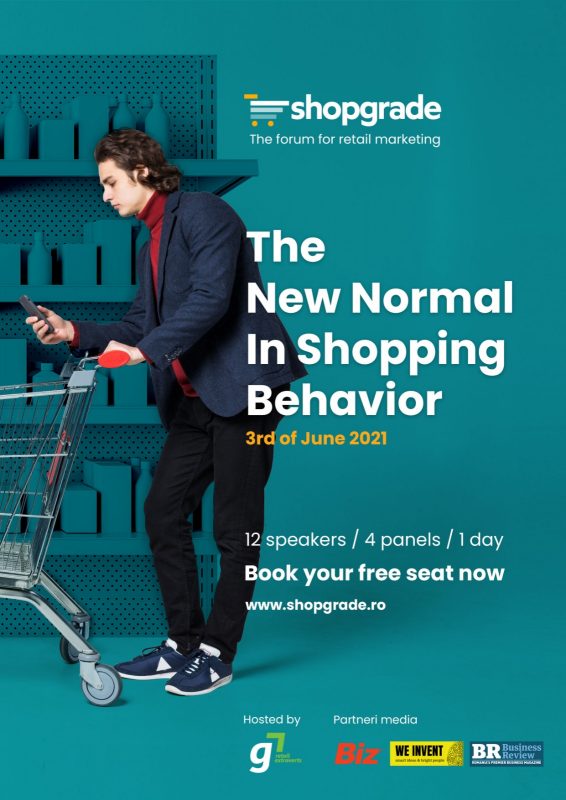 From the new normality, the trends that built the new retail, from the on-demand sampling, AI and the manner in which it can preview the changes in the consumer's behaviour, these are some of the subjects that will be debated at the 3rd Shopgrade edition.
The speakers, specialists in strategy and research, communication, technology and e-commerce, psychology and neurology, will touch the main theme from different angles and will offer different approaches to it. The full list can be discovered here.
Shopgrade targets all the professsionals in the retail marketing industry: retailers, brand managers, trade marketing managers, agency people. The attendence is free and all the interested parties can apply here. The places are limited and reserved in the entering order.
Toni Gherca, CIO at g7, the event's organizer, said:
In all the projects and initiatives we get involved we propose ourselves to open the communication channels between the shopper, the brands and the retailers. Because at its core, retail marketing is not about shelves or stock, but about people and relationships. Shopgrade is our small contribution to the community of retail marketing professionals, a space in which we can all share our views, exchange ideas, digest emerging trends and work together towards a brighter future for our industry.
What started in 2018 as a small work group between some producers and retailers became at the next edition a public event with over 70 participants, representing brands, agencies and retailers. This year, Shopgrade invites any retail marketing professional to join the initiative.
g7 lives and breathes Retail Marketing for more than 20 years on the local market. Launched in Cluj-Napoca, the agency proposes itself to be a facilitator between brandurs and shoppers. The g7 representatives consider that the retail represents the foundation of the growth of a sustainable brand and the building of a long term loyalty. The agency works with clients, retailers, partners in technology and other agencies, with the purpose of creating an approach centered on the shopper and a sustainable performance in retail marketing.