Innovators for Children – Euro 20.000 funds to accelerate and finance Romanian startups improving children's life
The 4th edition of Innovators for Children announced the opening of the entry period for projects and innovative tech solutions that impact positively the quality of life for children and teenagers in Romania. The acceleration program, launched in 2019 by Impact Hub Bucharest and Impact Hub Basel, sees this year UiPath Foundation joining as Strategic Partner and BRD and Mastercard as sponsors.
Innovators for Children 2022 is looking for startups and social entrepreneurs who develop, with help of tech, solutions for children's physical and mental health, education, nutrition and food, safety, children's rights in the digital era and other domains what could contribute to a better life for children and teenagers aged 0-18 y.o.
The program is structured in 2 main stages. DUring the first 2 months, 10-15 selected startups will undergo an acceleration process, during which they will focus on concceiving and validating a business model and will benefit of trainings, mentorship, consultancy and feedback, followed by conferencing with specialists, entrepreneurs and NGOs from children wellbeing sector.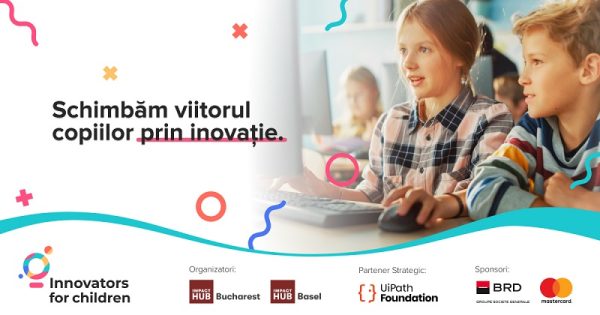 Next, the participants will present their solutions during a Pitch Day, an event that will see the finalists selected. After the Pitch day, the remaining startup will undergo 3 months of solution development and will have access to non-reimbursable financing totalling Euro 20.000 and an image campaign with media exposure.
The program receives applications until June 12th, via an online form on www.innovatorsforchildren.org. Participation is free, pending organizers confirmation.
This years mentors include: Adina Crețu, Programs Director Impact Hub Bucharest, Diana Certan, Executive Director Humanitarian Organization CONCORDIA, Raluca Negulescu-Balaci, Executive Director UiPath Foundation, Horia Velicu, Head of Innovation Lab BRD and Mădălina Putineanu, Managing Director Parenting Ads.
From the beginning of the program until now, 12 projects were supported and receive total financing of 231.000 euro.