GPeC SUMMIT May 30 – 31: Conference, Expo, Networking and Intensive Courses on everything essential in E-Commerce and Digital Marketing
After two years of online events, the 17th annual edition of GPeC SUMMIT will take place on May 30 and 31st at the National Theater and Sheraton Hotel in Bucharest.
28 international and Romanian speakers will take the floor at GPeC SUMMIT, and the organizers have prepared two days of practical information for all those interested in E-Commerce and Digital Marketing: Conference, 5 Intensive Courses, 1 Masterclass, 4 Workshops, but also Expo and Networking Party to facilitate partnerships between entrepreneurs and players in the field.
GPeC SUMMIT is considered the most important regional event dedicated to Online Commerce and Digital Marketing.
Avinash Kaushik, Erin Weigel, Krista Seiden and Michael Aagaard come, for the first time in Romania, to GPeC SUMMIT
Four legendary international speakers come, for the first time in Romania, to GPeC SUMMIT May 30 – 31:
Avinash Kaushik is a Digital Marketing Evangelist for Google, one of the world's leading experts in Digital Analytics and the author of two bestsellers – Web Analytics: An Hour a Day" and "Web Analytics 2.0". Avinash will speak on the GPeC SUMMIT stage at the Conference of May 30, and will hold 1 Masterclass in Analysis and Marketing Strategy on May 31st.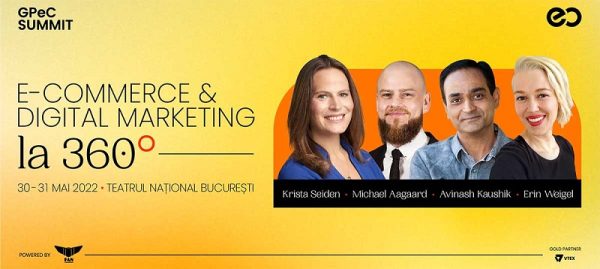 Erin Weigel is an expert in A / B Testing and User Journey with 9 years of experience within Booking.com giant. On May 30, she will share with the GPeC audience the secrets she learned from the more than 1,200 A / B tests she ran on Booking.com.
Krista Seiden worked for Google for 7 years, where she headed the Product Management department of the Google Marketing Platform and was an evangelist for the Google Analytics product suite. Krista will speak at the GPeC Conference on May 30 about Google Analytics 4 – a topic of great interest considering that Google will give up the current version of Analytics starting July 1, 2023.
Michael Aagaard is one of the world's foremost experts in Conversion Rate Optimization, working in the field since 2008. At the GPeC Conference, on May 30, he will talk about the top 4 pages in an online store and how to optimize them for increase sales.
Andrei Radu, CEO & Founder of GPeC

"We are happy to continue the GPeC tradition of bringing to Romania some of the best international specialists in E-Commerce and Digital Marketing, and the line-up of this edition is unmissable for anyone working in the field or planning digital transformation. It is a unique chance to benefit from the know-how of such giants, all in the same place"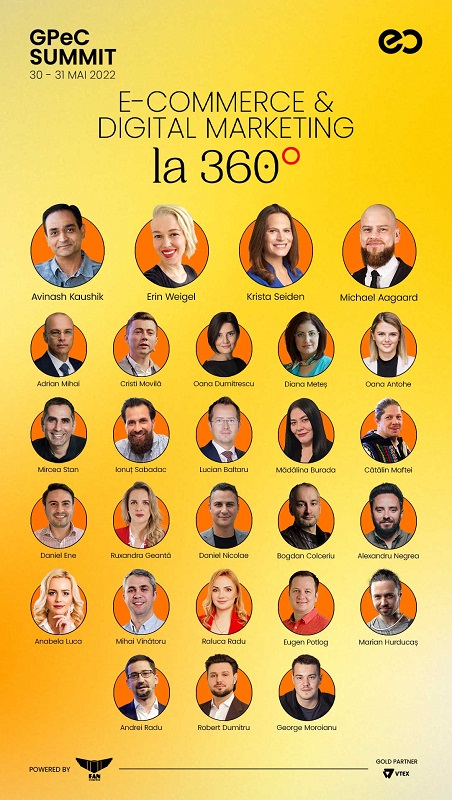 GPeC Conference – May 30, Bucharest National Theater
The GPeC Conference will discuss topics of maximum interest in the current context of E-Commerce and Online Marketing, the event being dedicated to all players in the field, as well as traditional retailers who migrate to online or entrepreneurs who want to develop an online business:
How to expand your e-commerce business abroad – Oana Dumitrescu, Google Romania
Google Analytics 4, the new version of Analytics from July 1st, 2023 – Krista Seiden, KS Digital
The Future of Online Marketing, Creative Content and Data-Based Business Decisions – Avinash Kaushik, Digital Marketing Evangelist
Challenges and opportunities in the current context of E-Commerce. What do customers want from online stores? – Adrian Mihai (FAN Courier), Bogdan Colceriu (CEO Frisbo), Catalin Maftei (Founder of C-Solution), Lucian Baltaru (CEO Sameday), Mircea Stan (CEO & Founder of Postis)
Top 4 Pages in an Online Store and how to Optimize Them – Michael Aagaard, Senior CRO Consultant
Trends in E-Commerce and the Future of Retail – Cristi Movilă (VTEX), Daniel Nicolae (Innoship), Ionut Sabadac (TBI Bank), Mihai Vinatoru (DWF), Ruxandra Geanta (BaseLinker Romania)
The most common mistakes in E-Commerce after more than 1,200 A / B tests at Booking.com – Erin Weigel, Deliveroo
The road from Start-up to a successful E-Commerce – Laura Sardescu (NeaKaisa.ro), George Moroianu (Flip.ro). Host: Marian Hurducas (Necktie Agency)
GPeC Expo – May 30, Bucharest National Theater
Simultaneously with the GPeC Conference, the GPeC Expo takes place throughout May 30 – the place where 30 E-Commerce and Digital Marketing service providers shall meet, exchange contacts and obtain leads from online stores.
According to the organizers, more than 20 stalls have already been booked, and registrations can be made on the GPeC website until May 15, the cost of a 6 sq m stall being of 1,499 EUR + VAT.
GPeC Networking Party – May 30, Aria TNB
The evening of May 30 ends with GPeC Networking Party – an exclusive event that brings together the elite of the Digital industry in Romania and which is a good opportunity of networking with representatives of the most important companies in the field. Access to GPeC Party is by invitation only and ALL INCLUSIVE tickets.
Masterclass, Intensive Courses and Workshops – May 31, Sheraton Hotel
May 31st is dedicated to the courses and takes place at the Sheraton Hotel in Bucharest within the GPeC SUMMIT, exclusively with physical presence. Participants will be able to choose one of the 7 modules prepared by the organizers, which will take place simultaneously. There are max. 30 seats available for each module.
1 Masterclass in Analysis and Marketing Strategy with Avinash Kaushik
The masterclass will go through the DMMM (Digital Marketing & Measurement Model) and identify the main KPIs, measuring the effectiveness of marketing campaigns, awarding models, Social Media and will end with an AAA dedicated session (Ask Avinash Anything).
5 Intensive full-day courses on the most important topics of E-Commerce & Digital Marketing, with some of the best trainers in the field:
Social Media Marketing and Communication Strategy Course – Alexandru Negrea, Social Smarts
Google Analytics 4 Course for E-Commerce – Eugen Potlog, UX Studio
Facebook & Instagram Ads course for E-Commerce – Raluca Radu & Robert Dumitru, MTH Digital
User Experience & Online Marketing Tips for Increasing E-Commerce Sales – Andrei Radu, GPeC
Google Ads Course – Anabela Luca, adLemonade
1 Module of 4 Online Business Scaling Workshops:
SEO Workshop – Madalina Burada, Five Elements Digital
Growth Hacking and Product Performance Workshop – Daniel Ene, MOLOSO
eMAG Marketplace Sales Workshop – Oana Antohe, eMAG
Business Scaling Workshop through Multichannel Sales – Diana Metes, easySales
Registration with discount prices by the Last Minute Offer, valid until May 15.
GPeC SUMMIT May 30 – 31st ticket prices start at 169 euros / person, the offer being valid until May 15. Subsequently, the prices shall increase by 30 to 70 euros depending on the type of selected ticket.
GPeC 2022 is an event powered by FAN Courier, with VTex as Gold Partner and supported by Google. Recommended Payment Processor is NETOPIA Payments. The event is supported by: BaseLinker, Cora, Debonaire, DWF, easySales, eMAG Marketplace, Five Elements Digital, Frisbo, Gomag, GTS, Innoship, MOLOSO, MTH Digital, OSF Digital, Packeta, Plăți.Online, Poșta Panduri, Postis, RTB House, Salesforce, Sameday, SEPHORA, TBI Bank. Coffe by Nespresso, refreshments by Pepsi, treats from Eisberg.
Main Media Partner is PRO TV PLUS, Official Radio is Kiss FM and official hosting is HOSTERION