Roxana Niță (DDB Romania) was chosen by the famous The One Club among Europe's Next Creative Leaders
Roxana Niță, Creative Director of DDB Romania, was chosen by the famous The One Club For Creativity and The 3% Movement as the Next Creative Leader for Europe, together with Daisy Ifama, creative, filmmaker, London, Agustina Lavignasse, senior creative copywriter and Christine Smith, senior art director, VICE, both from Copenhagen, Patricia Medeiros, creative director, Ogilvy Madrid and Sandra Valencia, senior copywriter, Jung von Matt Munich.
A total of 25 people were selected from all continents: APAC (Asia-Pacific), Europe, Latin America, North America, Middle East / Africa.
The full list of winners can be seen here.
"I am very proud of Roxana's results and the fact that she chose to be part of the DDB Romania team to create together relevant and impactful campaigns in the clients' business, but which at the same time are also creative and powerful. And the success of being once again the only winner of Romania and Eastern Europe in such an important competition says a lot for us and gives us confidence that the years to come will be better and better for our agency," stated Roxana Memetea, Managing Partner of DDB Romania & Tribal Worldwide Romania.
Roxana Niță graduated from Art Directors Club Romania and, after winning the local Cannes Young Lions competition in 2012, was selected in 2015 to represent Romania at the ADC Europe Creative Express program, also graduating from Eurobest Young Digital Academy. She has continued her advertising creative work for the past nine years and is the winner of dozens of local and international awards such as Cannes Lions, D&AD, LIA Awards, Golden Drum, Effie Europe, One Show, FIBRA, IAB MIXX Awards and many others.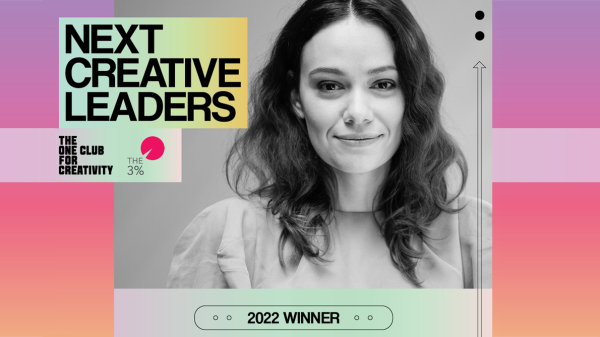 "It is a great joy for me to be among the 25 creatives from around the world who have been recognized this year as Next Creative Leaders. I'm even happier that I already know some of them, from professional contexts or from other programs like See It Be It from Cannes or RARE from Google. It's a beautiful feeling of belonging, a kind of sisterhood that has formed between us in recent years," says Roxana Niță, Creative Director of DDB Romania.
Moreover, Roxana was one of the 15 women selected in the 2020-2021 Cannes Lions See It Be It (SIBI) program, being the only representative from Eastern Europe. Creative Director of DDB Romania, she was chosen from over 800 candidates from around the world and is one of the two participants from the European Union selected for this program that was developed by Cannes Lions as part of its initiatives to combat the unequal representation of women and men in the advertising industry, aiming to help promote future female creative talent.
Now in its eighth year, Next Creative Leaders is a free portfolio competition that identifies, celebrates and provides a global platform for talented women and non-binary creatives from all regions who are making a mark both through their work and with a point of unique view. about creative leadership that changes the industry for the better.
Entrants are judged on four to six creative entries and insights into how they – and their work – are pushing the industry forward and making a positive contribution to diversity, mentoring and advocacy.
"For nearly two decades, The One Club has focused on programming that helps improve the industry's diversity and gender equality," said Kevin Swanepoel, CEO, The One Club. "We are proud to produce programs like Next Creative Leaders that identify, elevate and give voice to those in every region around the world who are making a real difference. In addition to making their own inroads, NCL winners are also opening the door and inspiring the next generation of women and non-binary creatives."
Kat Gordon, The 3% Movement founder and CEO, echoed this enthusiasm and reminded the creative world how necessary programs like Next Creative Leaders are.
"When 3% was founded in 2012, many creative competitions had all-male juries, steep entry fees, and a tendency to reward one kind of work and one kind of creator," she said. "Next Creative Leaders has demonstrated the bounty of creativity that arises when everyone is invited."
The One Club and The 3% Movement will host a celebration event for this year's winners on January 19, 2023 at The One Club gallery space in New York. The evening, complete with cocktails and appetizers, will include a look at some of the winners' work, and a pair of panel discussions with winners and other industry leaders.
Branding for Next Creative Leaders 2022 was designed by the team of NCL 2021 winners Cara Mia Cecchini and Mia Rafowitz, both of whom are on this year's jury.
About DDB Romania
DDB Romania is the creative agency member of The Group. The Group is a leader in the communication industry in Romania and includes agencies specialized in creative services, media, digital, branding, public relations, production, experiential marketing and special events.