Gurps Rai Is Empowering Creators Through DroppTv
Without creators, the likes of YouTube, Vimeo, and Vevo wouldn't exist.  These platforms make billions of dollars every year but it is interesting to see how little they give back to creators. Most creators earn peanuts from these platforms yet it is their content that generates the billion-dollar revenues.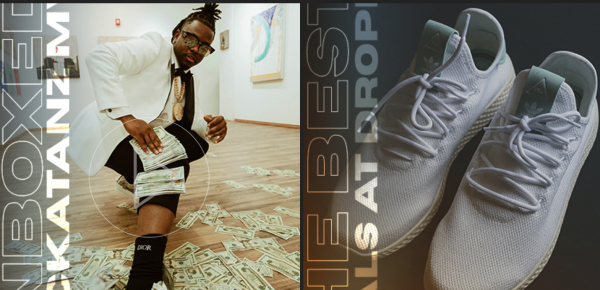 Creators Should Hold the Power
Gurpreet Singh Rai, popularly known as Gurps Rai, believes that artists should hold the power. After all, they are the ones who compose songs, shoot videos, and perform the songs.
Gurps Rai has created a creator-centric toolbox called dropp.tv that will help artists to succeed. If creators utilize this ecosystem, the big brands will automatically follow.
Gurps Rai has created a new mode of digital interaction that will allow creators to easily and effectively monetize their videos.
Leveling the Playing Field
Gurps Rai is leveling the playing field for musicians, filmmakers, influencers, and vloggers. Through his invention, dropp.tv, he is giving creators the ability to instantly transform their work into e-commerce opportunities. DroppTv is the world's first shoppable streaming video platform.
An Interesting Ecommerce Model
With dropp.tv, an artist can create a video that features their own merchandise. If a viewer likes the jeans that the artist is wearing or any other merchandise, they can be able to directly purchase it without leaving the video, and the artist will earn money.
This e-commerce model eliminates middlemen. A creator doesn't have to chase after elusive big brand sponsorships.
A Combination of AI & Machine Learning
According to Gurps Rai, DroppTv uses a combination of artificial intelligence and machine learning to recognize products in video content. These products are then tagged in real-time facilitating one-click, frictionless in-content purchasing.
With dropp.tv, a viewer can watch a video and make a purchase from any device- PC, tablet, or smartphone. The DroppTv app is available on Apple Store and Play Store.
Gurps Rai believes there isn't a company in the world that is delivering the experience they are facilitating on a myriad of operating systems and tailored to a user's device. That is because their state-of-the-art algorithm can identify in real-time products within the video stream, tag them, and make them shoppable with a global logistics and payment structure.
The Intersection between Ecommerce & Entertainment
When asked about the essence of dropp.tv, Gurps Rai describes it as the intersection between e-commerce and entertainment. Rai sees DroppTv as the connective tissue of the retail and e-commerce industry.
DroppTv isn't only a shoppable streaming company but also a service that brands can use to optimize their business in other channels. Rai hopes to launch their Apple TV app by December 2020. This will feature long-form content, which he believes will become the staple of shopping and entertainment.
Gurps Rai is the kind of person who likes to be a pioneer. He believes that he is pioneering a whole new dimension of e-commerce. In the future, people will be able to build on his ideas. 
Gurpreet Singh Rai understands that the future of e-commerce is content-driven. He thinks that video content will play a key role in e-commerce.
Big brands are reaching out to Gurps Rai. They want to be part of dropp.tv. At first, they only targeted to have 100 streetwear brands by the end of 2021. Less than two months after the service was launched, over 1000 brands had already signed up.