BAMM's Life through a gaming lens: an immersive insight into today's gaming community
New documentary filmed almost entirely inside video games, is an immersive dive into the truths and tensions of the gamer's gamut.
We're entering a 4th wave of gaming, driven by the democratization of games and tech, mobile gaming, and now the pandemic. This means new audiences with new needs, and sophisticated ways of doing research and uncovering insights.
1st wave – late 80's and 90's: increased popularity of games, driven in part by Nintendo Entertainment Systems (NES) launch of Super Mario Bros, Playstation's 'Double Life' campaign
2nd wave – 2000's: democratization of tech, as Nintendo Wii's console is targeted at a wide demographic of families and non-gamers
3rd wave – 2012: Candy Crush for mobile popularizes limited plays and in-app monetization
4th wave – 2020: World Health Organization recommends gaming as pandemic pastime 
Life Through a Gaming Lens takes a strategic view at tensions framing the gamer's gamut and what these mean for brands. It delves into gamer need states, motivations and experiences, and brings to life examples of brands getting it right and getting it wrong in the space.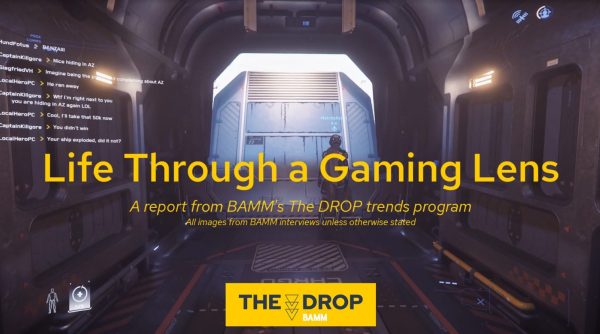 Global insight agency BAMM reveals a brighter and darker side of the gamer's gamut, in a new documentary film shot almost entirely using 'inside-out' visual ethnography. Told through the lens of casual and committed gamers and industry experts in the UK and US (2), Life Through a Gaming Lens is an immersive dive into the unreal yet very real in-game lives of this audience.
The documentary premiered on 19th May 2021 at 2pm UTC / 3pm BST / 10am EDT and can be watched at www.bammglobal.com/thedrop.  
Today's gaming community is diverse, widespread, and increasingly influential in society. As gaming becomes normalised and subsumed into mainstream culture, the opportunity is exciting – but does growing up come with growing pains? Life Through a Gaming Lens sparks conversation around 3 overarching tensions which govern the gamer's gamut.
First, lots of gamers don't identify as gamers. For those gaming but 'not a gamer', being spoken to as if they are becomes less relevant. For self-identified gamers, the worry is that ownership of this identity is stripped away as the culture grows.
Second, gaming is like life, and life is both good and bad. As gaming both reflects and creates culture, the gaming experience is defined by good vs. evil; with toxicity plaguing peoples' rich, positive, healthy achievements.
Third, this is an unreal world, but reality is creeping in. The power of gaming has been in its separation from reality, but increasingly real life (and brands) are clashing with the in-game experience.
Life Through a Gaming Lens can be viewed at BAMM, who are offering a complimentary presentation (3) to brand managers, strategists, media planners and insights teams to present the findings of their research.
 BAMM is a global team of researchers, data explorers and creatives. With offices in London and New York City, the company is built to unlock powerful human truths via a unique combination of Qualitative and Quantitative techniques alongside Data Science.