Volkswagen takes a new path and announces it in France with a poetic print campaign
Without promising miracles, Volkswagen is launching initiatives to change about everything. For this, the brand does not content itself with producing more electric vehicles but adopts a more global approach. With its Way to Zero program, Volkswagen is rethinking the way to build its vehicles with a neutral carbon footprint, to move them forward with green electricity and even to make them disappear with a recycling program. Real initiative that must be shared with an honest tone of voice.
To announce all these efforts in France, Volkswagen wishes to speak up through a general public campaign imagined by DDB Paris and the artist Taku Bannai. This campaign is far from the codes used by many brands to talk about ecology. The Japanese artist offers a contemplative and pure universe, without artifice. This simplicity allows us to carry a complex message about the transition of a sector without giving lessons. His universe is also very joyful, colourful, because we think that the fact that a group wants to change towards more ecological responsibility is good news, we want to bring some optimism.
With a first series of four visuals, we want to talk about the vision of the brand but also, the construction of vehicles, the recycling and the partnership and actions implemented with the FFF.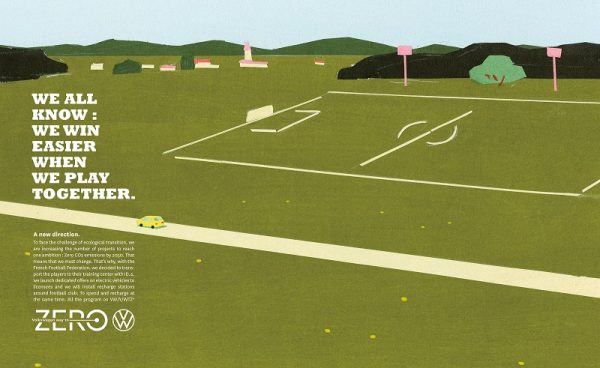 Credits :
Client : Volkswagen
Client Supervisor : Antoine Gaston Breton, Jean-Manuel Caparros, Alexandra Tacconi
Agency : DDB Paris

Executive Creative Director : Alexander Kalchev
Creation : Jenna Haugmard, Julien Kosowski 
Planning : Loic Morando 
Agency Supervisor : Alban Callet, Soraya Cottin, Marina Kovalenko, Loreline Dexemple
Art buyer : Marine Rolland
Artist : Taku Bannai