'Ready. Set. Quit.' – Uncle Grey and Canon help those stuck in the wrong job join 'The Great Resignation'
In its latest campaign, 'Ready. Set. Quit.' Canon Nordic is helping people quit their job and pursue a more creative career. The company will choose four resignation letters that can be sent to four different employers and enroll the recent quitters in a mentorship program to become independent creators.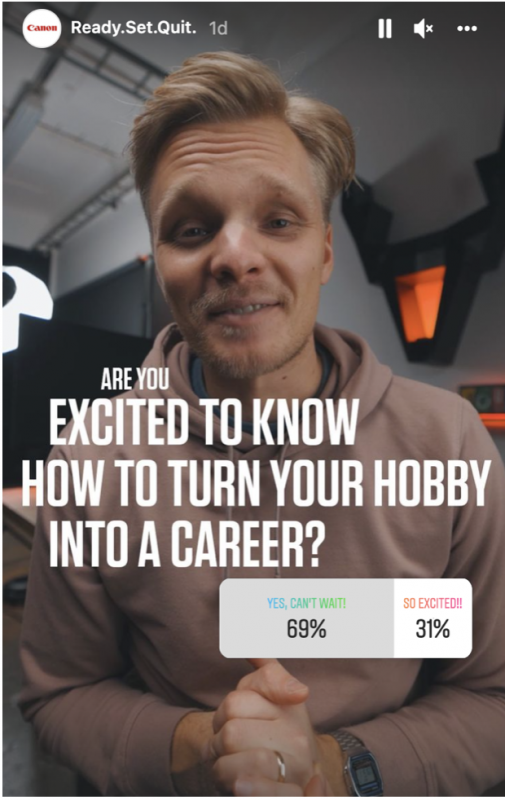 According to research by the World Economic Forum earlier this year, 40% of people were considering quitting their job to pursue work with more meaning. The move to quit and start working on a dream career has been dubbed, 'The Great Resignation' and Canon is here to help that along in their initiative called: Ready. Set. Quit.
The pandemic, lockdowns and job insecurities are all feeding the shift in thinking and while some are less keen on their jobs, others are thinking hard on if they like their boss or even need a boss.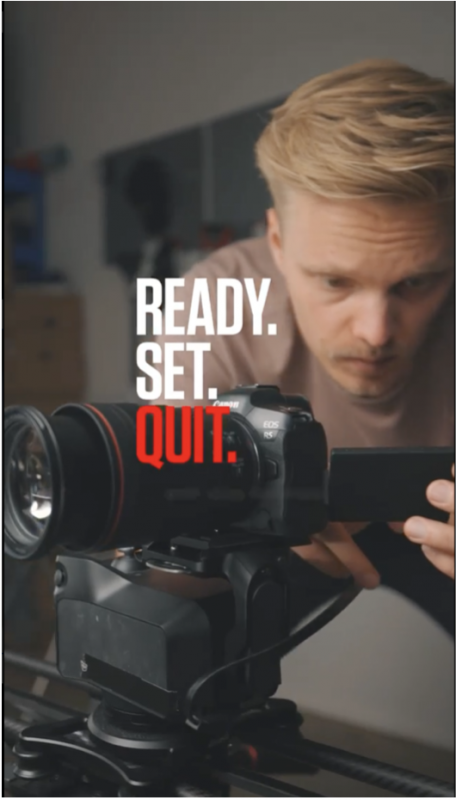 Canon Nordic is helping people turn their hobby into a career by becoming an independent content creator. According to Google Trends, this was one of the most searched job prospects this year. Participants will get a Canon EOS R5 camera and lens, a five-week mentorship program with professional creator Joey Palmroos and be commissioned with their first paid assignment.
Cathrine Stenemyr, channel business developer at Canon said:

"People have had time to think about what is really important to them and how they want to spend their working lives. Through this campaign we're really pleased to come up with a pathway that could help someone launch an entirely new and creative way of working for themselves."
Joey Palmroos added:

"It's a blast working with Canon on this. I'm my own boss, and I love it. I know other people who are considering a career like mine, so I'm all ears, and really looking forward to helping my four mentees make stuff happen for themselves."
Clara Prior-Knock, creative director at Uncle Grey said:

"When you look at current culture, it's crazy to see how many people feel stuck and are ready to jump into an entirely new career. We're really excited to create a campaign that helps people who want to quit with the knowledge they need to become independent content creators – and on top of that, get them some really cool equipment from Canon AND their first professional assignment."
Prospective candidates can send their resignation through the Canon campaign website. From there, Canon will choose four people from the Nordics or Baltics to quit their job and go all in. Followed by a fresh start of their five-week course with Joey Palmroos.
CREDITS
Client: Canon Nordic
Nordic Marketing Director: Jenni Lindström
Channel Business Developer: Cathrine Stenemyr
PR & SoMe Specialist: Andrea Frovin
Agency: Uncle Grey – Copenhagen
Client Service Director: Josephine Winther-Puopinel
Creative Chairman & Strategic Director: Lars Samuelsen
Creative Director/Copywriter: Clara Prior-Knock
Art Directors: Casper Jean Christensen, Hans Augustenborg, Mads Nielsen       
Project manager: Camilla Bunnage
Digital Director: Kasper Nielsen
Editor: Thorbjørn Fessel
Media specialists: Mathilde Staunsholm, Caroline Rasmussen
Filmmaker and mentor: Joey Palmroos