Romanian Digital Marketing Forum to help shaping marketing strategies in 2022
Romanian Digital Marketing Forum is scheduled to take place in hybrid format – online and on location – on May 16-17, at Marriott Hotel Bucharest.
The event starts with a training day, focusing on practical solutions, new ideas and new proven solutions, followed by a conference day, with explained strategies and case studies relevant for marketing people from companies of all sizes.
Conference day will host practitioners who will share valuable know-how and brings on the stage brands and renown agencies.
Communication trends, promotion instruments and consumers expectations are in continuous change. Digital Marketing Forum provides essential information for campaign planning and results' measurement, info on how Romanian consumer changes and which are the newest solutions helping to define 2022 strategies.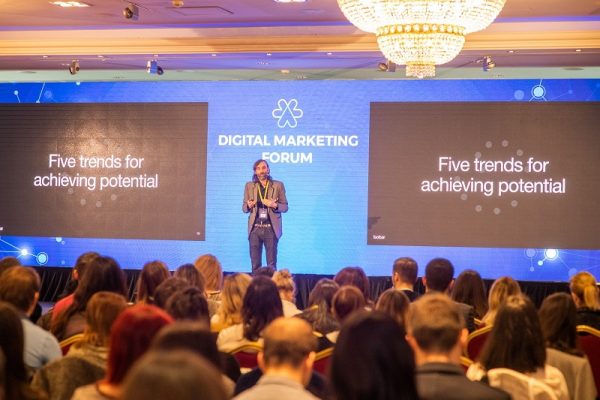 Among those presenting during the day are representatives from PepsiCo, BCR, McDonald's, OMV Petrom, Porsche, ProTV, Unilever or Teads, MGID, RTB House, Conversion, MTH Digital, Snapchat, YouTube etc.
Among the speakers are Laurențiu Ion (Head of Total Connections Planning & Media, PepsiCo Romania), Ioana Petrovici (Brand Manager Pepsi, PepsiCo Romania), Victor Stroe (Chief Strategy Officer & Associate Director, Leo Burnett), Ana Maria Ghiurcă (Head of Digital Marketing, BCR), Cosmina Tapliuc (Digital Marketing Manager, McDonald's), Gabriela Nanu (Head Of Marketing & Digital Product Gas & Power, OMV Petrom), Patricia Zegreanu (Marketing & Communication Manager, Porsche Romania), Bogdan Țurcanu (Head of Marketing, PRO TV), Adrian Călărașu (Digital Category Manager, Unilever), Sergiu Gruiță (Industry Director Romania, Teads), Olimpia Norsesovici (Senior Sales Manager, MGID Romania), Andrei Grădinaru (Agency Sales Manager, RTB House), Mihai Călușeriu (Creative Director, Conversion), Robert Dumitru (Deputy General Manager, MTH Digital), Sabin Belușică (Senior Performance Lead, Httpool), Aneta Pleșa (Industry Manager, Google Romania), Anabela Luca (Managing Director, adLemonade), Ioana Anescu (Managing Director, IAB Romania), Cristian China-Birta (Antreprenor Digital, Kooperativa 2.0), Vlad Oprea (Tech Account Manager, Conversion).
Digital Marketing Forum is an event organized by Evensys, in partnership with PepsiCo Romania and with support from BCR, McDonald's Romania, Teads – The Global Media Platform, MGID, RTB House, Conversion, MTH Digital, Answear, Hama and Snapchat.