2022 Techsylvania: hybrid format with speakers from Grab, Superbet and Chili Piper
2022 edition of Techsylvania is scheduled to take place in the end of June, in hybrid format, with audience on site and online and speakers from Grab, Chili Piper, Superbet, MongoDB or OLX Group.
Among the speakers of the event are
Alina Vandenberghe , co-founder Chili Piper, newest US unicorn founded by a Romanian
Sacha Dragic – founder and executive chairman Superbet Group, sports bets and gaming. Initially founded and developed locally, the business started its international expansion 4-5 years ago.
Other speakers to be present at the event are: Mark Porter, CTO MongoDB, Suthen Thomas, CTO Grab, Lloyed Lobo, co-founder Boast.AI, Ajey Gore, operational partner Sequoia Capital India, Trang Nguyen, co-founder TI Platform, Zach Coelius, partner Coelius Capital.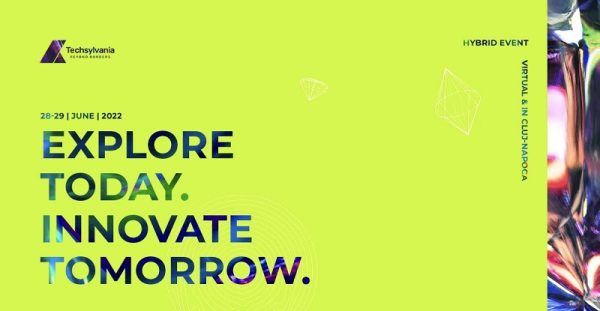 Business connexions, workshops and awards for startups
Techsylvania's core is represented by the conference, which brings together over 60 inspirational representatives from all over the world.
Besides the tech workshops, Techsylvania will also focus on the opportunities to connect with business partners, within B2B Matchmaking Area or Executive Roundtables. Techsylvania is also a space dedicated to latest tech and innovations, which will be present this year also within Startup Alley, program hosted by Google for Startups.
Vlad Ciurca, co-founder Techsylvania

Techsylvania reached already to its 9th edition and became more then an event. It is a meeting or reuniting space for the most passionate people in the sector, and for the strongest companies on the market. Our mission is to create a bridge between Eastern Europe and the rest of the world via events, knowledge, networking, business connections and investments. No matter we are talking by people that are searching for inspiration, no matter we are talking about people that want to share valuable information or debate ideas, Techsylvania is the best place they could be. Last year, we were forced to organize the meeting in virtual format and we lacked the physical interaction but we discovered also a good part, the surpassing of geographical frontiers. That is why we decided to meet both in person and online this year, so the people that cannot come to the event could still assist to these discussions
The tickets for the event are available online and cost 49 euro until June 20th.
Event's partners are UniCredit Bank, OLX Group, Google for Startups, Halcyon Mobile, Telenav, AboutYou, Appssemble, Crafting Software, Cicada Technologies and Freshbyte.