Alexandru Pomana, the new creative director of Tempo Advertising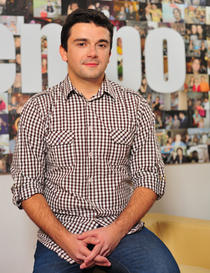 Alexandru Pomana is the new creative director at Tempo Advertising, part of Romanian Tempo Group.
He comes to Tempo as creative director instead of Adrian Preda, that handled the job for two and a half years and had an important role in creating and maintaining a core of talented creatives.
Pomana worked for six year for Leo Burnett Group, on strategy and planning, his last assignment being inside 23 Communication Ideas, agency managed by Bogdan Naumovici, one of the icons of the Romanian advertising industry.
Besides handling the creative process inside Tempo Advertising, Alexandru will also assist the other companies in the group in generating and integrating ideas in communication.
Before joining Tempo, Alexandru worked in developing integrated campaigns for clients such as Kraft Foods, Avon, Citroen, Friesland Foods, Jurnalul National, Altex, Cancan, Alka and UniCredit.
Tempo Creative Group is one of the most important communication groups activating on Romanian market and includes companies specialized in all communication areas.