MullenLowe creates new employer branding campaign for TELUS International Romania, inviting candidates to discover why #ItsDifferentHere
MullenLowe and TELUS International have started their collaboration in Romania with an employer branding campaign built on the main drivers that help the company stand out from the other employers in the customer experience delivery industry. Their hashtag #ItsDifferentHere is the focal point of an integrated campaign that describes the company's inspired team members and the significant advantages and opportunities they are discovering at TELUS International.
The campaign concept was drafted to correct several misconceptions around customer support centers, such as roles in customer support are best-suited for students or individuals who are looking for short-term or part-time positions and that workplaces are bleak environments where rows of employees at desks are talking non-stop on the phone with frustrated customers.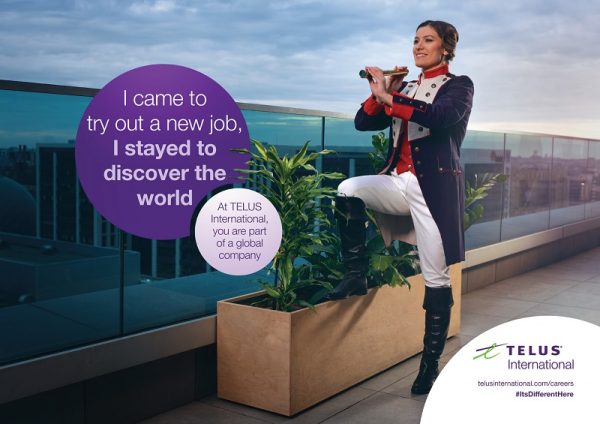 MullenLowe's approach was to talk about the company's actual team members – what makes them happy, the benefits TELUS International offers to them and what opportunities they seize for career growth and personal and professional development. These real-life examples are presented as examples of how it's possible to have a fulfilling and rewarding, long-term career in the customer experience industry.
Luisa Sauca, Director for Brand, Marketing and Culture, TELUS International Romania.

"TELUS International has 50% lower attrition rates than its competitors, so we wanted to turn the main reasons why our team members stay with us into concrete drivers to attract new candidates. As we are an authentic and trustworthy brand, our main condition in the campaign brief was to cast real team members that tell real stories, and were happy to find that MullenLowe shared our vision. Our team members are the best ambassadors of our caring culture, friendly team and the numerous growth opportunities we offer at TELUS International, and this is how the #ItsDifferentHere campaign was born,"
George Bucurescu, Copywriter, MullenLowe Romania

"I had heard that in customer support people come and go, but, after our first visit to TELUS International, we quickly saw that things are different here. There are so many team members with years of experience at the company. That is why this campaign aims to reach potential candidates with real stories of the current team members, to understand the main reasons to join TELUS International and to stay to build their careers,"
The media campaign is coordinated by Initiative in online and outdoors, and is showcasing a set of key visuals featuring real team members of TELUS International. They responded with great enthusiasm to the casting brief and photo shoot, and enjoyed representing the key differentiators of the company, such as growth opportunities, free language training, learning options and work from home capabilities to name but a few.
Teams working on this campaign:
MullenLowe Romania: Mihai Costache (Group Creative Director), Silviu Antohe (Group Creative Director), George Bucurescu (Copywriter), Valentin Ionescu (Art Director), Ionela Ionescu (Account Director), Adrian Radu (AV Director), Nicoleta Grigoriu (DTP).
TELUS International: Sebastian Bulanti (Senior Director Marketing, Facilities & Business Development, Central America), Luisa Sauca (Director for Brand, Marketing and Culture), Oana Cojocaru (Communications and Employer Branding Manager), Madalina Aldea (Marketing Specialist), Edwin Magarin (Marketing & Communications Manager, Central America)
Initiative Romania: Anca Tănase (Account Director), Adriana Sasu (Digital Account Manager), Cristina Pascaru (Digital Executive), Andreea Varlan (OOH Media Buyer).
Present for 27 years in Romania, MullenLowe is a creative, marketing and brand strategy agency that aims to keep its entrepreneurial creativity and dynamic spirit. The agency positions itself as a challenger of the traditional way of work during the creative process, adopting a new working model based on integration and on a holistic perspective of communication.
MullenLowe Romania is part of the global network MullenLowe, one of the biggest communication networks worldwide, with over 90 agencies in America, EMEA and APAC, one of the Interpublic Group of Companies holdings. In Romania, the agency is part of Lowe Group, one of the most important communication groups on the market.
TELUS International focuses on the value of human connection to design, build and deliver high-tech, high-touch customer experiences powered by next-gen digital solutions. With almost 50,000 team members and delivery centers across North and Central America, Europe and Asia, TELUS International empowers customer experience innovation through digital enablement, spirited teamwork, agile thinking, and a caring culture that puts customers first. The company's solutions cover customer experience, content moderation, digital transformation, work-from-home, IT lifecycle, advisory and digital consulting, trust & safety, and back-office support. Fueling any stage of company growth, TELUS International partners with some of the world's most disruptive brands from fast-growing tech, financial services and fintech, games, travel and hospitality, healthcare, and ICT industries. The company serves clients in over 50 languages. Learn more at: telusinternational.com.