Branding/Design Agencies Verdes and Combo Collaborate to Design Casa Blanca Real Estate App
Design agency Combo and sister company strategy consultancy, Verdes, collaborated to design Casa Blanca, the new real estate app that brings a new level of engagement and transparency to the New York City real estate market.
The Combo and Verdes team worked with Casa Blanca cofounders Hannah Bomze and Erez Zarur to develop an inviting design, simple user experience and soothing color palette to engage users. Casa Blanca's app functions like a dating app for house hunting, complete with a swipe right function to further explore the properties you love.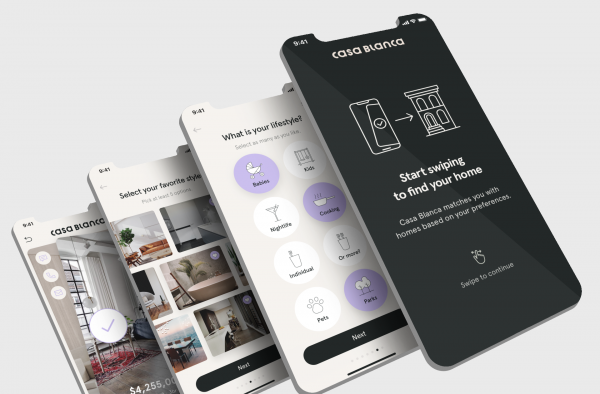 For Kapono Chung, Founder at Combo, hispriority from the design/user experience front was communicating clearly everything an apartment or home had to offer.
"The worst thing about home hunting is that feeling that you are being deceived; that a home can be shown as bright with lots of windows and actually have no windows, or way more expensive than the price range stated," Chungsays. "This is beyond frustrating for users, so transparency was our number one priority in our design for this app."
Chung notes the main priority of the user experience is to communicate everything a home has to offer and to be completely transparent to enhance the overall real estate experience. When the app is downloaded, it walks the user through a style questionnaire to gauge specific preferences to personalize and refine their feed. The questionnaire asks users such questions as if they're looking to buy or rent, neighborhood preference, budget, number of rooms, and more. It also curates the main feed by showing the user mood boards and asking about their lifestyle choices and other features that are important to consider when looking for a home.
Greg Matson, Partner at New York agency Verdes, explains that for this project, they focused on who the consumer was and what the consumer wanted but wasn't getting.
"We found that single women make up the second largest segment of homebuyers after married couples, and even with couples who are buying, women tend to be the majority influencer in home-purchase decisions," Matson says. "Once we understood this reality, it helped us build a female-centric brand, product and experience."
Verdes is a research, strategy and innovations consultancy born out of Mother New York. Verdes works to create mutually beneficial strategies for both their clients and the communities they're trying to reach. Verdes clients include Alexander Wang, PUMA, Humana, Rockefeller Center and Streeteasy.
Combo is a branding and design office built on the practice of collaboration. Most famously, Combo went in-house (as employees 3 & 4) to build the brand and product for AWAY. Other clients include Hudson, MakeSpace, Saie Beauty, Chillhouse and Showfields.