Roxana Ciocanau Dinescu (Betano): "I strongly believe that a brand, regardless of the industry, must be dynamic and responsive to the customers' needs"
Betano, alongside its communication agency  OXYGEN, challenged several Romanian stars at a live duel live on social media, in a campaign dedicated to the live casino platform and developed around its star-product: the exclusivist Betano roulette. According to EGR Awards 2019, Betano.com is the best mobile platform for online cazinos and sports bets in the world. BETANO is part of Kaizen Gaming, leader on the GameTech market in Greece. Kaizen employes more than 800 people, at a regional level, out of which more than 5% are Romanians. AdHugger.net wanted to find our more about the company's campaign and communication strategy, as well as the industry, the opportunities of online entertainment and more in an interview with Roxana Ciocanau Dinescu, Marketing Manager – Brand and Communication.
You say that your "major career objective is to lead and be part of a team within an organization focused on helping its employees tackle its business problems and advertising challenges by delivering the sharp strategic thinking and the bold creative ideas that uniquely position the client's brand among target audiences and also that surprise and delight the customer, stimulate interest and motivate response. " How is that reflecting in your career at Betano?
I am happy to say that I have finally reached my major career objective once I have joined Betano. I am extremely lucky to be part of a company that fully embraces strategic creativity and innovation. Betano is a brand that beautifully blends two of my passions – tech, and entertainment. On top of that, the company is directly involved in the community through social responsibility projects, being extremely rigorous in respecting its commitments towards both clients and partners. Moreover, I am delighted to represent a brand that communicates through amazing and outstanding marketing campaigns. All these, together with the #oneteam spirit throughout the company, make me feel so fortunate to be here and so willing to be creating and developing even more outstanding projects in the future.
How does a company differentiate itself on the betting marketing in Romania?
Brand building is the same for all the industries, no matter if we talk about gambling, banking, or retail. It must always be customer centric and consider its target audiences and their needs. Our mission, as marketing managers, is to efficiently promote top-quality products and services. And, for the betting industry, this statement is truer than ever, as our clients are very well-informed on what the market has to offer, therefore the challenge is to rise to their expectations and even to deliver an entertainment experience above their expectations, setting new quality standards on the market.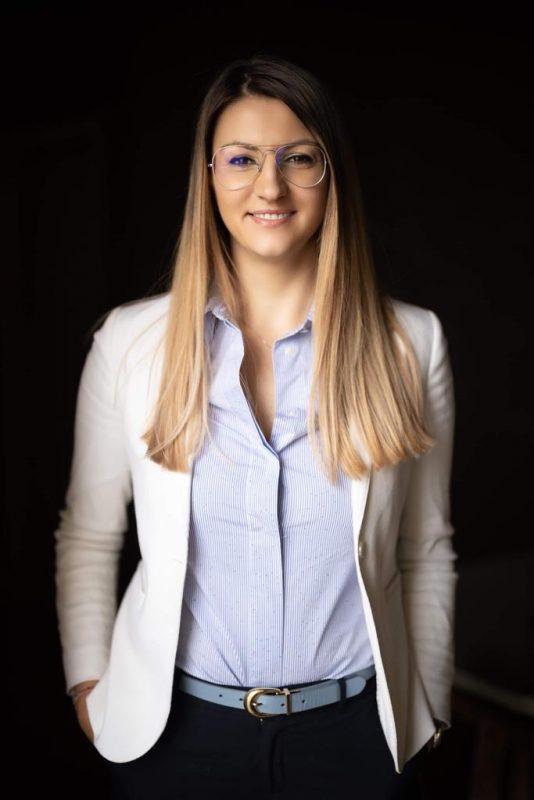 What are the main challenges in general? What about the ones brought by the pandemic?
The betting industry has its own very particular challenges, as it is one of the most regulated industries on the market, the marketing and communication activities being done under specific restrictions and guidelines. As I am creative driven in my profession, I am always willing to turn each challenge into an opportunity and I have been doing so ever since I have joined Betano and the industry. I made a swift in my career and joined Betano team during the pandemic and I have been working remotely from day one. The online onboarding process was very different from what I had been accustomed to – complex, yet smooth and efficient. I have learned to adapt along the way to each situation and new challenge throughout my career, and now dynamism and adaptability are part of who I am as a professional.
How important is the dynamic of the industry in the way the company communicates?
I strongly believe that a brand, regardless of the industry, must be dynamic and responsive to the customers' needs. These are two key characteristics each company should include in its business value proposition, as this is arguably the most important element of the overall marketing messaging. The faster a brand responds to its clients' needs, the longer the clients stay with the brand. I believe companies and brands need to constantly adapt to the new realities and engage with their customers in a customer-centric manner. As a famous quote says, "The best way to predict your future is to create it" (A. Lincoln) and I would add "by being receptive, adaptive, flexible and innovative."
What in your opinion are the opportunities in online entertainment? How is this industry seen and how do you believe it will evolve?
Online entertainment has this great advantage of providing immediate reaction and response from its target audience. Brands have the upper hand on instantly understanding if the content provided fits the audience's needs and expectations; thus, being able to adapt accordingly. The industry faces its challenges in terms of general perception, but it is in the operators' responsibility to change it in accordance with the reality.
I am proud to be part of a company that has been the first one to deploy a Responsible Gaming campaign on the Romanian market, involved in complex social responsibility actions both locally and internationally. Betano constantly invests in the latest technology, aiming to provide its clients with a safe and secure online environment. Moreover, we value the connection with our clients and keep a permanent contact with them, following their needs. It is our duty, as a brand, to maintain an ongoing communication with our customers, authorities, and general audiences, providing updated information on our activities and actions, so to tackle their questions, needs and concerns.
How do you wish the brand to be perceived on the market?
Betano is a premium brand and the premiumness is not only present in the marketing and communication campaigns we develop, but also in the product experience. I am happy to say that in 2019 Betano, part of Kaizen Gaming group, received international recognition as the best online casino and sports betting platform in the world, according to EGR Awards, and in 2020 was awarded three recognitions for best marketing campaigns. The EGR Awards are perceived as the Oscar Awards for the Gambling Industry.
Moreover, we are an entertainment and tech platform and that makes us an important player in all the markets where we are present. Innovation and continuous improvement are part of our business strategy and corporate DNA, and we embrace each challenge as a potential opportunity.
How are you building your CSR campaigns and what is your objective from that point of view?
Corporate responsibility has been an integral part of our business model, right from the very beginning. Under this scope, we analyzed our areas of action, to identify those where we can maximize the positive footprint. The donation made in Spring 2019, of 100,000 EUR, towards Crucea Rosie Romana, was a natural response to what was happening in the Romanian society. We are living unique times and only by being altogether as #oneteam we can overcome the difficulties brought by the pandemic.
Furthermore, as part of this approach, on December 17th, Betano Romania officially launched an impactful CSR campaign, under the concept Table for Two, an initiative to support two of the most affected sectors in Romania that directly and immediately felt the effects of the pandemic crisis – health and HoReCa. 100 lunch menus were distributed daily, for 30 days, to the medical staff from COVID-19 support hospitals in 4 cities across Romania (Bucharest, Cluj-Napoca, Timisoara and Craiova).
Table for Two is a human-centric CSR campaign meant to show gratitude in front of the efforts the medical staff puts into saving people's lives, while also supporting small businesses, owned by Romanian entrepreneurs, thus maximizing the positive impact of the initiative. For 30 consecutive days, even during Winter Holidays, we supported 15 restaurants from 4 cities to prepare and deliver 15.000 hot meals to the front-line medical staff from 5 hospitals. By working closely with restaurants to provide the medical staff with daily meals, we ensured a solid number of orders that helped in keeping those restaurants running during the hard pandemic times.
Through this campaign, we aimed to generate a chain of goodness: by helping restaurants in helping medical staff in helping patients, and thus the community. As such, we continued our commitment to help society in the fight against COVID-19, as part of our mission to act as a responsible and stable brand on the Romanian market.
How do you approach the purpose of marketing in the company? What are Betano's most notable campaigns of 2020 and what do you want to focus on in 2021?
Marketing means delivering the right messages to the right audiences, in alignment with the brand's identity, mission and values. We see our marketing and communication campaigns as wearing the brand's clothes; therefore, our strategic focus is on putting ourselves in our customers' shoes, in order to have a better understanding of their behaviors and their triggers. Thus, we develop customized campaigns, to fit the customers' needs. 2020 brought to life the first omni product campaign of the company, focused on all our product pillars: Sportsbook, Casino and Virtuals, two amazing CSR initiatives and numerous sponsorship online activations. 2021 is about continuing to provide high-quality, real-time, and innovative content, as we have already accustomed our clients to.
Please tell us more about your strategy in digital communication and the campaign Ruleta Celebritatilor. Brief. The Big Idea, etc.
When I started working in advertising, I remember digital marketing did not stand a chance in front of traditional marketing (TV, OOH & Print) and now the balance has shifted in favor of digital, traditional marketing turning from mandatory to optional.
As we operate 100% in the online environment, our mission is to provide live content to our audiences, and this is how the Ruleta Celebritatilor (VIP Roulette) project was born. We developed the project as a fun and entertaining interaction of popular celebrities with one of our products, the Live Roulette, live-streamed both on their Facebook and Instagram channels. We aimed to create real-time engagement with the celebrities' fans, the users giving them tips and tricks on how to play the Roulette. We created real experiences, real pieces of entertainment meant to bring people closer to their favorite celebrities and to the brand. This is the kind of interaction we aim to have with our audiences through our marketing projects.
What marketing & communications plans do you have for 2021?
One of our main objectives is to further develop the Betano brand as we have successfully done so far, starting as main sponsor of Liga 1 Betano for two years in a row and continuing as proud partner of CS U Craiova and FCSB football teams. In 2020, we extended our sponsorship family by becoming the official partner of the Romanian wrestling Olympic, Alina Vuc, and of the National Rally Championship. Since we are a tech company, we are also planning to further develop our platform. We will continue to focus on customer education and Responsible Gaming, as Betano has aimed to be a responsible source of online entertainment. Our goal is to build on the brand's position among its users and to be perceived as any other traditional entertainment options.
How has your extended experience of working for important advertising agencies helped you in your current position?
The opportunity of having worked for brands like Red Bull, Discovery Networks, Michelin, or Lidl Romania, along with deploying a wide range of projects from BTL and ATL to Digital ones, has shaped me as the current marketing professional I am today, always willing to innovate, think outside the box, surprise, and create the kind of content that makes a brand stand out from the crowd and be memorable in the consumers' minds.