Clinica Baviera reaffirms commitment to visual health in a new Instagram campaign signed by SocialMood
Clínica Baviera, a leader in advanced ophthalmology in Spain, has replaced its corporate colour, blue, with grey and black in its digital communication, with the aim of fulfilling its commitment to caring for people's visual health to the maximum, also on social networks.
With more than 25 years of experience, 60 clinics in Spain and more than one million treatments performed, Clínica Baviera is one of the leading ophthalmology centers in Europe. Now, with this gesture that affects its image in networks, it contributes to minimizing the visual impact of users. Precisely, according to a study by Clínica Baviera itself on "Use of electronic devices and visual discomfort", from September 2018 with a sample of 1,403 interviewees, the daily use of devices is directly proportional to the appearance of visual discomfort in people, among which visual fatigue, headaches, dry eyes and blurred vision stand out.
Concerns about the possible impact of the use of devices on visual health led Clínica Baviera to rethink its communication on Instagram, following guidelines that would help to reduce the consequences for the eyes of this practically inevitable exposure people experience nowadays.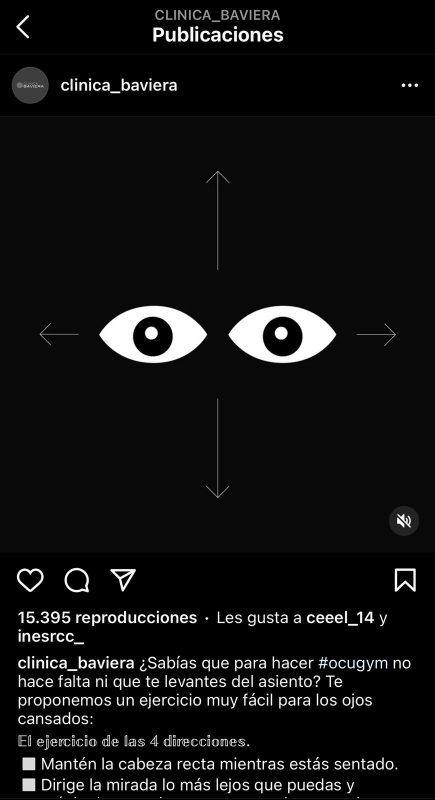 As a result, the company has modified all those codes on its profile that can affect users' visual fatigue, moving from bright colours and blues to greyish and more respectful tones, thus responding coherently to its commitment to eye health.
In line with this objective, on its social network, Clínica Baviera also shares tips to help improve eye care, eye rest areas and exercises for the eyes, always with adapted visual codes and with the aim of protecting its users from eye fatigue.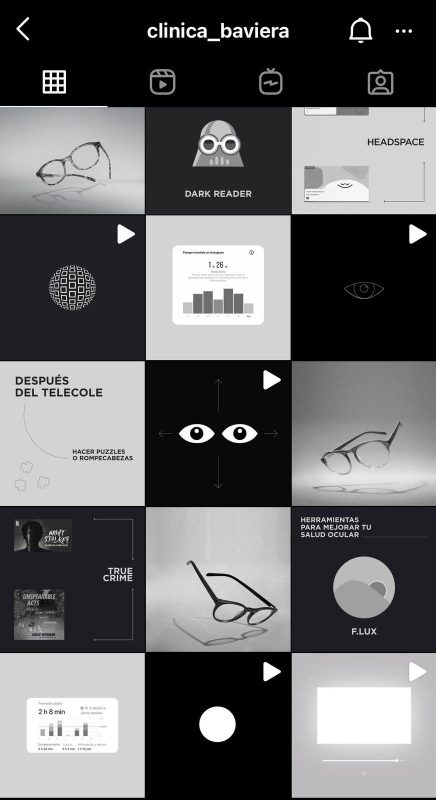 Credits
"Color vs Purpose, Clínica Baviera
Strategy Team: Mariele Sánchez-Palencia y Carla Alonso Martinez
Creative Direction: Pablo Castellano
Head of Art: Lara Vázquez
Creative Development: Marcos Peña
Account Management: Clara Ventura
Account Direction: Maholi Hernández