United Media Services study: 7 in 10 Romanian parents are not optimistic about the economic situation, while 1 in 3 have to tap into savings to cover back-to-school expenses
Most Romanian parents think pessimistically about the future. 7 in 10 worry about the economic situation, while 2 in 5 say they are in a more difficult financial situation compared to last year, with only 17% saying they are significantly better off.
Every year the beginning of the school year is one of the most important events in the family, implicitly one of the biggest sources of expenses for parents, after the holidays. That's why it's no surprise that nearly 9 out of 10 parents said they are currently concerned about higher prices for products for the start of the school year.
Therefore, in order to know and better understand consumers and how their behavior changes during this period, from August 9-11, the United Media Services media agency conducted a study on a sample of 400 urban respondents, parents, aged between 25 and 55 and with children in kindergarten or school. The interviews took place online and the sampling was done on quotas, according to gender, age and degree of urbanization.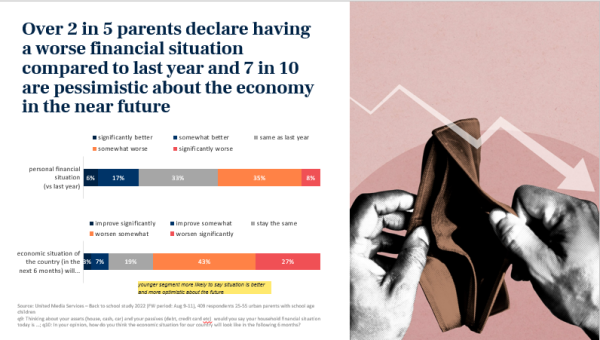 Taking into account the latest developments in the market, parents are once again facing uncertain times. As they prepare for the upcoming school year, rising inflation is a reminder of an unpredictable future. However, they are prepared to spend, despite the difficulties encountered and the worse financial situation reported by many of them.
Moreover, Romanians are generally far-sighted, 3 out of 4 respondents start their back-to-school shopping at least two weeks before, and 25% even about a month before and only 9% with the start of school, the vast majority resorting to the funds they currently have (61%), followed by those who put money aside for the occasion (33%). What is interesting and worth noting is that 34% of respondents state that the child/children are also involved in the purchase decision.
According to the study, after the pandemic period when investments in technology for virtual learning were of increased importance, the focus returned to the classic categories associated with the start of school: supplies and clothing/shoes, with 9 out of 10 parents having them on the shopping list.
Where is the shopping done?
The decisions regarding the location from which the purchases are made from depend mainly on the objects to be purchased. Thus, if hypermarkets and malls are preferred for choosing clothing, footwear and school supplies, online is decisive in terms of choosing the technology (phone, computer, laptop, tablet, etc.).
Starting school will bring many changes to family leisure activities and media habits. And that's because, in general, families' summer media habits look very different than during the school year.
According to United Media Services, if during the summer Romanian parents watch more movies, spend more time on social networks and streaming services, and more time outside, when school starts these media habits reset to support the well-being of their children both at school as well as at home. As many parents have reported, they will also try a "digital detox" for their children after school starts, limiting their time on smartphones and other mobile devices.
The leisure activities that will suffer the most will be playing video/online games (71% will do this activity less often), watching video content on various platforms such as TikTok, YouTube (62%) and TV content (59%). Thus, reading books becomes the only activity in an upward trend (32% will read more often).
"The resumption of school brings with it a reset of the lifestyle and implicitly of the media consumption acquired during the holidays, which is valid for both children and parents. Our objective as media specialists is to capture these changes in consumer behavior and to quickly adapt to them by integrating them into our current media planning. This consumer-centric approach, accompanied by our mindset of continuous improvement and adaptation of media planning to new realities, helps us meet our clients' marketing and communication objectives as efficiently as possible," said Anca Băcăianu, Head of Strategy & Research of United Media Services.
These changes are also reflected very well in the parents' desire to invest in activities and courses for their children, which will detach them from their devices, most of them choosing activities that require physical participation. Thus, according to the study, 67% of parents are oriented towards an individual sport, 35% towards a team sport, 21% towards a musical activity (learning an instrument, singing, etc.) or a scientific activity (history, robotics, etc.) and 19% towards other artistic activities.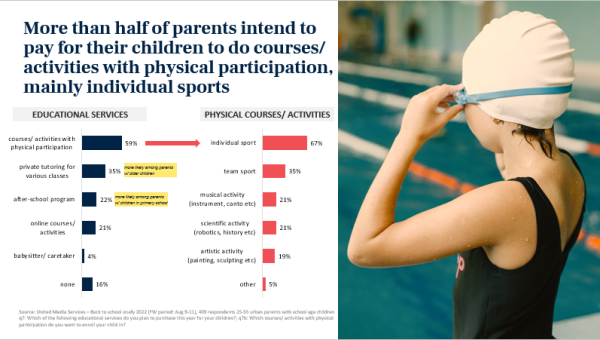 About United Media Services
United Media Services is a full-service media agency, with digital focus digital, with the headquarters in Bucharest and with regional coordination capabilities. The agency currently works for more than 60 clients and 100 brands in dynamic and challenging categories, such as: retail, pharma, telecom, e-commerce, FMCGs, financial, etc.
The media agency is not at the first time conducting a study of this kind, as in April 2022 conducted a study on Romanians' consumption behavior with the occasion of Easter. His results can be accessed here.