Cyber Monday – $1,46BN spent in one day
Cyber Monday saw $ 1.46BN spent online in US in one day, 17% up compared to last year, this being the heaviest online spending day in history and 2nd day in this holiday shopping season – together with Black Friday – when online sales surpass $1BN, according to comScore.
comScore reported holiday season U.S. retail e-commerce spending for the first 26 days of the November-December 2012 holiday season, that reached to $16.4BN, 16% up compared to 2011.
Cyber Monday saw Digital Content & Subscriptions continue to set the pace among product categories with a year-over-year growth rate of 28%. Consumer electronics, buoyed by gains in smartphone sales, ranked second at 24%, while tablet sales helped the Computer Hardware category post a 22% growth rate. Video Games, Consoles & Accessories (up 18%) and Jewelry & Watches (up 17%) rounded out the top five.
When it comes of the place where the products were acquired, nearly half of dollars spent online at U.S. websites originated from work computers (47.1%), while buying from home included most of the remaining share (47.2%). Online buying on U.S. websites from international locations represented 5.7% of sales.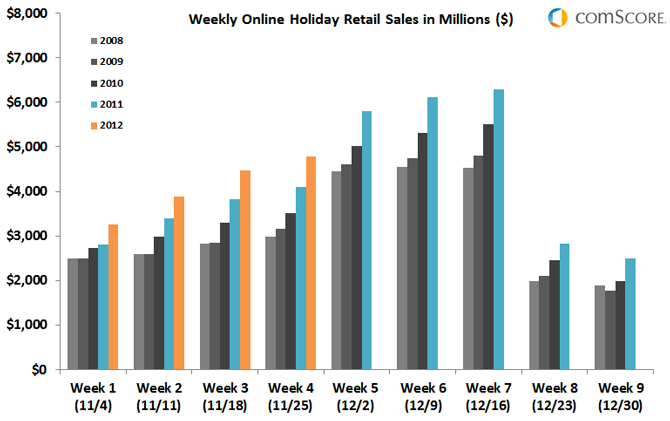 comScore  is a global leader in measuring the digital world and preferred source of digital business analytics.