Romanian concept bookshop Carturesti, innovative campaign to promote reading
Romanian concept bookshop Carturesti and Veranda Mall launched a campaign to promote reading through a special activation that makes mall's parking space to get a personality by association with classical book titles.
The campaign was launched on April 5th and continues the actions to promote reading initiated by Carturesti each year, on International Book Day. As special execution, exclusively at Veranda Mall, the parking was turned into an invitation to lecture. The parking spaces were renamed after classical books loved by many readers like Lolita, by Vladimir Nabokov, Emma, by Jane Austen, Marele Gatsby, by F. Scott Fitzgerald, Anna Karenina, by Lev Tolstoi or Doctor Jivago, by Boris Pasternak. Campaign's mechanism is an interactive one, those who use mall's parket space are invited to make a photo with the title of the book they want to read from among those promoted, to go to Cărturești store in Veranda Mall and to shoe the photo to the seller in order to get a special price.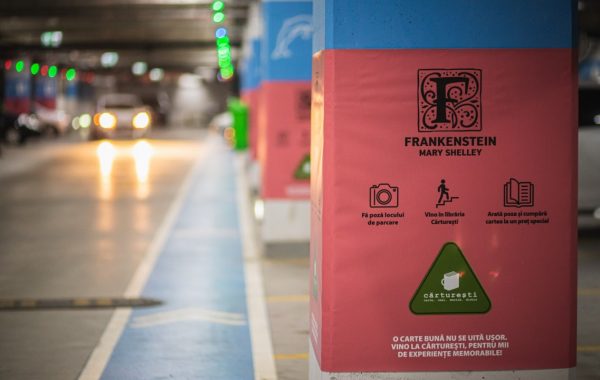 The campaign includes a series of visual executions which integrates quotes from books with the intention to transpose, at least for a few minutes, the wellbeing felt when people read. The activation completes campaign's concept, through which the city becomes a reading room and the bookstore – the cultural anti-chamber of the urban space.
Iulia Teliban, Marketing Manager Carturesti:

Last year brought many changes in our lives, we lost a lot of the things dear until then, but it also helped us to rediscover or consolidate the good habits like reading. We were happy our partners from Veranda Mall liked the idea of the campaign, we thank them for joining this effort and helped us to transform a parking lot into an invitation to reading.
The campaign comes to continue Carturesti's effort to bring books into the day to day life. At the opening of the book store in Veranda Mall, for a week, Carturesti went with a stand in Obor Market, where books were sold in the same floor with fruits and veggies
Oana Boiangiu, Senior Marketing Coordinator Veranda Mall

In a period full of changes for all of us, friends and partners from Carturesti came towards us with an initiative to transform a space to which very few people give attention in a lively and full of imagination place. We believe 2020 helped many to rediscover reading and want to help our partners from Carturesti to bring forward this habit, offering to them the needed support in the creative and innovative efforts they showed during time.
The concept and strategy of the campaign belong to VMLY& R Commerce / Geometry. Agency's team included Bogdan Teodorescu – Creative Director, Andreea Golban – Senior Copywriter, Cristian Nichita – Senior Art Director, Cristina Ungureanu – Head of Strategy, Simona Costea – Client Service Director, Claudia Lungu – Account Director, Irina Matei – Account Manager, Dorina Sandu – Senior DTP, Simona Chiritoiu – Traffic Manager.
The campaign runs between April 5th – June 5th.
Cărturești is the first concept book-store in Romania, open in the end of 2000 and dedicated to a new experience of buying and promoting books and cultural products. Evolved into the most important chain of bookstores on the Romanian market, Carturesti has now 38 spaces that are redefining the idea of bookstore.