Microsoft, Headspace, YouTube and Pfizer top world's 100 most conscious brands list
Microsoft tops the Conscious Brands 100, Wolff Olins and Hall & Partners' inaugural list of the world's 100 most conscious brands.
The Conscious Brands 100 was created in light of increased consumer demand for brands not only to act more responsibly (to be ethical, sustainable and prepared to take a stand on moral and social issues) but to be more responsive to peoples' identities, moods and cultures.
Headspace comes in second on the global list, followed by YouTube, Pfizer, Google and Netflix respectively.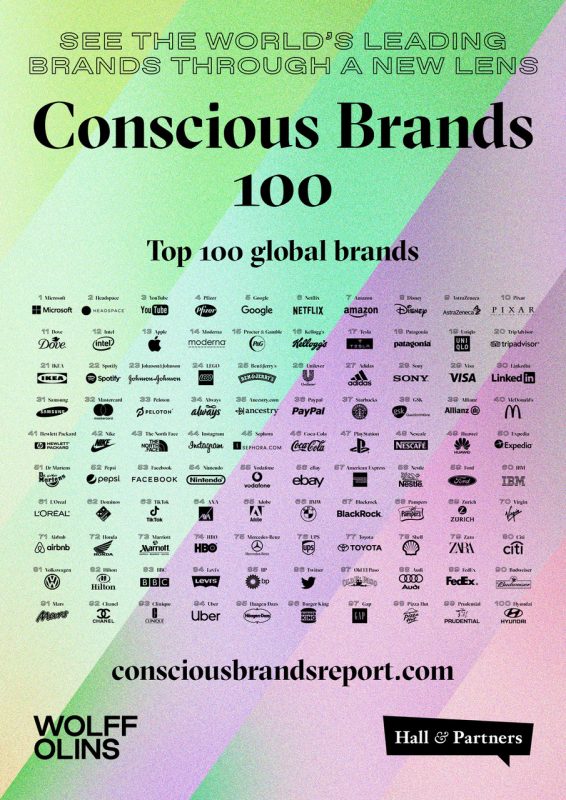 The ranking defines conscious brands as those that are responsive to people's needs, moods and culture and that also take responsibility by helping people, communities and the planet.
The report shows that the pandemic has changed what we value, with consumers prioritizing mental health, communication, convenience, human connection and entertainment.
The list scores the world's leading brands according to 6 key criteria: empathy, reform, multisensory, collectivism and morality (the 6 signs of a Conscious Brand, which you can read more about here) through a global survey of 9,000 consumers rating 223 brands in the UK, US, and China.
Microsoft scored highly for the importance of its role in people's lives, with Microsoft Teams enabling workers to continue their role safely. During the pandemic, Microsoft leveraged technology to help those on the front lines of research into COVID-19 and, in 2020 alone, donated $1.9bn to non-profits, nearly $4bn to diverse-owned businesses and reduced its supplier carbon footprint by 21m metric tons of CO2e.
Headspace was rated highly for its focus on improving health and happiness through meditation and mindfulness; YouTube for using storytelling and video to educate people on sustainability, Pfizer for its pioneering Covid vaccine, Google for using technology to help people do more for the planet; and Netflix for its stories and contribution to culture and diversity.
Brands that surprised by performing poorly on the index included Twitter and Facebook, both of whom scored poorly on moral performance (with particularly low scores for being brands 'guided by strong beliefs'), H&M, despite its own Conscious drive and Deliveroo, which even though it saw an upsurge in usage during the pandemic failed to make the UK top 100, scoring poorly for 'inspires a sense of community' and 'speaks up for what is right and wrong in the world'.
Categories that performed best were tech, entertainment and physical and mental health. Meanwhile, poorly performing categories were airlines; mobility; fashion; luxury; alcohol and finance. Brands that bucked the trend in these categories included Uniqlo, Levi's and Patagonia in fashion and Tesla in mobility.
Locally, in the US, Glossier ranked number 2 on the list, with Allianz also performing well at 10; in the UK, the BBC ranked 4, with Oatly at 8, Adidas at 10 and Tesco at 13; and, in China, plant-based meat brand Beyond Meat ranked 10.
The report demonstrates that brands can rapidly build global fame and relevance if they do it in the right way, such as top scorers Headspace, Oatly, Glossier, Beyond Meat, and Tesla, which ranked 17 globally.
The findings show conscious brands take action across all aspects of the business; drive action internally and externally; and have authentic 'conscious-ness' in their DNA.
Sairah Ashman, Global CEO at Wolff Olins, said:

"There's no doubt that 2020 marked a dramatic shift in what we value and what's essential to us as consumers. Unsurprisingly, it's the brands that helped us to stay connected and healthy or keep boredom at bay that we've come to rely on and value the most.  Although the success of a brand like Headspace going globally mainstream points to the rise of a more conscious brand and consumer.

It's also inspiring to see how quickly relatively young brands like Glossier, Oatly and Beyond Meat have won over consumers at a more local level.  And it will certainly be interesting to see if the big pharmaceutical brands can sustain the Covid bump they're currently experiencing."
Commenting on the launch of the inaugural Conscious Brands 100 index, Global CEO Vanella Jackson, Hall & Partners said:

"There is a growing need and opportunity for brands to show leadership and bring consciousness into their brand and marketing strategies. And, in doing so, help create a virtuous cycle of doing good between business, brands and consumers.
The ongoing challenge for brands is to connect to their unique role and contribution as a business, clearly linking to their DNA. And doing this consistently and authentically. Anything else risks tokenism. Getting this right means staying even closer to customers, as businesses start to rebuild."