Dentsu study: Inread Video generates more than twice the attention vs Social Media
Teads, the global media platform, has collaborated with dentsu international on the release of its latest research in Attention Economy which shows premium publishers drive higher engagement than social media. The results are a huge step forward for advertisers who are looking to use Attention to plan, buy and measure media.
Attention data was collected from a mobile panel of 3,005 users in the UK and US from across Teads' publishers. This was done in parallel with a controlled test on 801 users to measure the impact of attention on branding KPIs. This controlled environment allowed Teads to assess specifically the power of creative and format optimization for attention.
The study has demonstrated that Attention is three times better at predicting outcomes than viewability as initial findings showed that viewability alone is no longer a good enough metric to measure how consumers are reacting to content on a page. Some drivers of viewability such as the size of the format or the position on the page can actually negatively impact the attention level.
Advertisers and agencies have been looking for a better way to measure the Attention Economy. dentsu's latest release has identified four key drivers:
● Time in view. Viewable time is intuitively one of the most important drivers of attention, and has been confirmed by the study with video and display ads both quantifiably benefiting from quality, viewable time. Teads' premium publishers drive high engagement of users with quality content, this induces a slow scroll speed and an average of 12.2s of time in view (even higher than instream). This shows that Teads delivers twice the amount of attention than social media.
● User Choice. Forced ads gain more raw attention vs. ads that are easily ignored. However, when a consumer voluntarily views an ad, it results in a significant impact on brand lift metrics, whether they viewed for 2s or 20s. Formats that earned attention yield better, and much quicker, outcomes than forced formats.
● Creative. Whilst the importance of creativity on ad effectiveness has been well documented, it was important to measure its impact within the Attention Economy framework.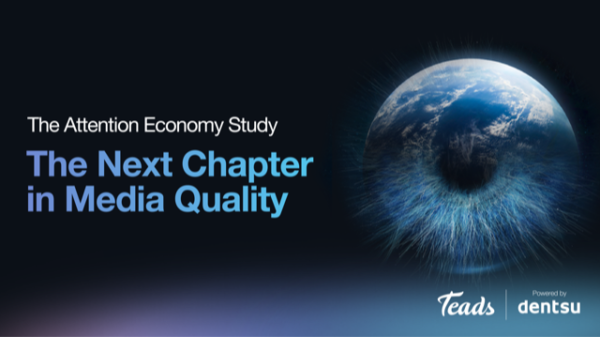 Creative came out by far as the biggest driver of how hard attention works. The difference between good creative and poor creative can impact recall by 17%, when sound only impacts recall by 6s. Impact to recall of attention drivers  on a 'typical' 3.2 seconds of attention
● The study showed that ads optimized for the Teads platform gained a 49% boost in attention vs the original. Teads interactive display formats that are designed for mobile also performed very well at capturing and retaining attention, generating 3 times more attention than standard MPU ads.
Relevance. Finally, building on previous research, the dentsu study showed that placing ads within relevant context for the reader gives an uplift of Attentive Seconds Per 1,000 of 13%
Joanne Leong, VP, Global Media Partnerships, dentsu international said:

"At dentsu, we have completed one of the largest eye-tracking studies to date and are deeply committed to researching attention and being able to put it into practice to deliver more impactful media solutions for our clients. As part of this project, we collaborated with some of the best forward thinking media owners to understand how to drive effectiveness on their platforms. Teads has been a terrific partner to work with in developing this for their platform."
As a media partner participating in the research, Caroline Hugonenc, VP Global Research & Insights, Teads, said:

"This fantastic piece of research from dentsu should be opening our eyes to the steps we have to take to achieve better-quality media and improved creative effectiveness. At Teads we understand that creating a framework for The Attention Economy will help advertisers, their agency and media partners to deliver better outcomes as well as more engaging content for the consumers they're trying to reach. We are really proud to have been part of this groundbreaking study and look forward to developing our understanding as it develops."
Teads operates a leading, cloud-based, end-to-end technology platform that enables programmatic digital advertising across a global ecosystem of quality digital media. As an end-to-end solution, Teads' modular platform allows partners to leverage buy-side, sell-side, creative, data and AI optimization technologies.
For advertisers and their agencies, Teads offers a single access point to buy the inventory of many of the world's best publishers. Through exclusive global media partnerships, Teads enables advertisers and agencies to reach 1.9 billion unique monthly users* in brand safe, responsible advertising environments, while improving the effectiveness and efficiency of digital ad transactions.
Teads partners with the leading marketers, agencies and publishers through a team of 800+ people in 26 countries.