Volvo Cars UK helps address consumer perception in new nationwide campaign "Recharge your car, and recharge yourself" by Grey London 
With their new nationwide campaign "Recharge your car, and recharge yourself", Volvo Cars UK is helping address a consumer perception problem that has existed for as long as the electric car.
When people think about charging an EV, they think of long wait times, inconvenient charging points that are few and far between, and wasted time. With a clever contextual OOH idea, Volvo has solved all their concerns in one.
Created by Grey London with media planning and buying by Mindshare UK, Volvo's OOH ads direct people to nearby faster charging points and give consumers a local activity to enjoy whilst they wait. These free activities – such as lakeside walks, breathtaking views, beach swims, art galleries, castles and iconic landmarks, are ideal for families, and were selected based on their ability to relax and recharge people within the 40 minutes it typically takes to charge a Volvo Pure Electric model from 10-80%.
Each ad features a neon sign to signal the brand's Pure Electric range, created in conjunction with 3D artist Ben Fearnley.
During planning, a key insight showed that interest in EV accelerates when CAZs are introduced / announced, so to create an efficient campaign that delivers on reach within the budget parameters, the activity is targeted to CAZs being introduced in the next 3-12 months, creating regional reach and impact. This is also the first time Volvo Cars UK has used programmatic OOH, via Kinetic's new programmatic product Sightline, which is ensuring greater relevancy and ability to maximise key audience delivery. This buying route has been key to delivering bespoke location creative with ease.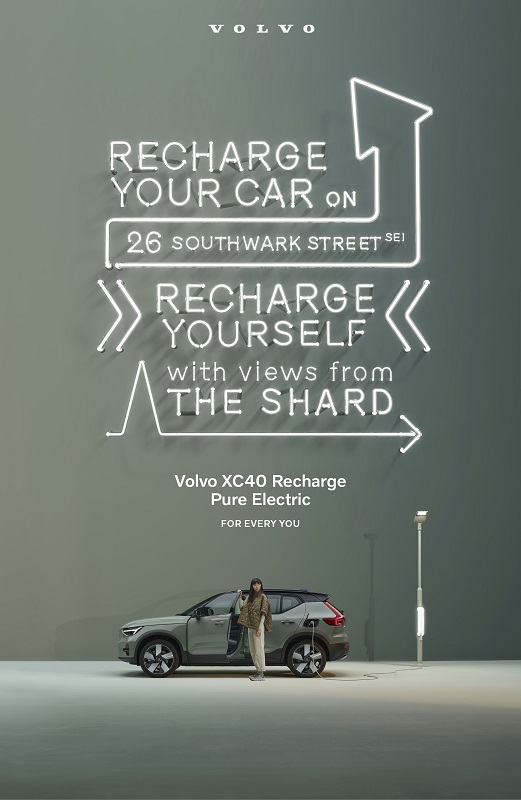 "We wanted to debunk the biggest myth surrounding electric vehicles – that there aren't many conveniently placed charging points and that EVs take a long time to charge," said Chaz Mather and Lucy Jones, the creatives behind the idea at Grey London. "This campaign felt like the best way to show people this wasn't the case – whilst also offering people regenerating activities that would make these short wait times fly by."
The campaign is currently live and runs until mid-November and also includes VOD, digital and social.