Rusu+Borțun signs the new Electrica Furnizare campaign – "Când la tine-i bine, toată lumea vine" (When everything is good at your place, everyone comes by)"
Rusu+Borțun agency recently carried out the campaign "When everything is good at your place, everyone comes by" to promote the products of the client Electrica Furnizare.
With over 120 years of tradition in energy and a portfolio of over 3.2 million customers, Electrica Furnizare is one of the largest integrated suppliers of energy, natural gas and value-added services in Romania. The company was listed on the Bucharest Stock Exchange and the London Stock Exchange in 2014 and has been constantly evolving, investing in the diversification of the product and service portfolio and improving the customer experience.
"We have been providing our customers with electricity for their homes and families for more than 120 years. In addition, we set out to meet them with products and services that will transform their homes into oases of comfort, so that they can fully enjoy the time they spend at home, in any season. We want to make things simple and flexible and that's why we have prepared a selection of benefits such as: zero down payment along with payment in equal installments (12-36) when purchasing home equipment, so that our customers can enjoy increased comfort, as quickly as possible. We aimed to position ourselves as a complete home solutions provider and drive sales over the summer. Therefore, we wanted Rusu+Borțun, the agency we have been collaborating with since 2019, to develop a creative idea with an impact in business, which would not go unnoticed by consumers," said Corina Vasile, Director of Market Analysis & Customer Experience Department Electrical Supply.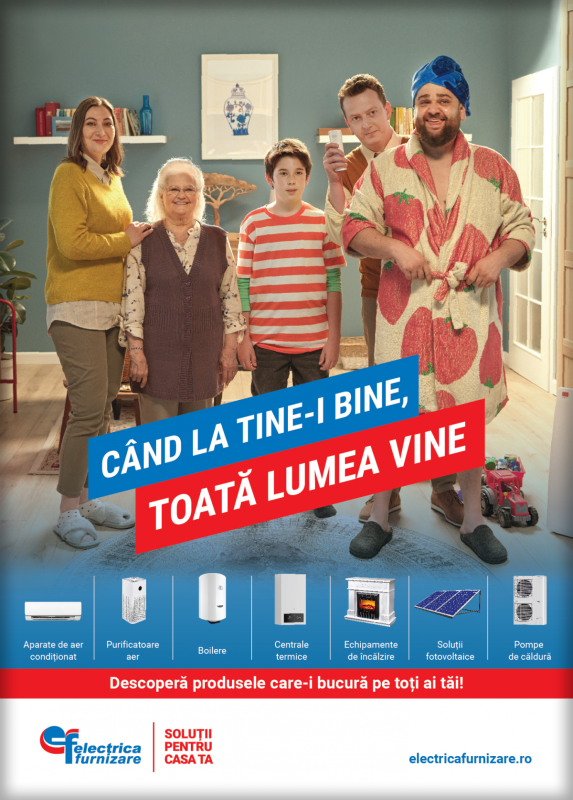 Through this campaign, Electrica Furnizare creates the domestic landscape of the family, inspired by the reality of Romanian life, highlighting the comfort brought by modern home equipment. And that makes the most comfortable home also the most coveted by relatives, neighbors, friends, who choose to spend their time there, from courtesy visits to spontaneous visits, under various pretexts. Thus, although sometimes comfort becomes a bit uncomfortable, Romanians still remain with a trace of pride when neighbors, relatives and friends appreciate and enjoy it.
"The communication concept started from an insight common to all Romanians, which we declined with humor: in any family or group of friends, the most equipped house also becomes the most visited house, the common space. As home maintenance and improvement are a permanent concern of Romanians due to their traditionalist nature, focused around the family and its values, we wanted Electrica Furnizare to be perceived as a provider of integrated services, which serves this purpose," said Miruna Macsoda, Managing Director & Head of Strategy Rusu+Borțun.
"Integration means less stress for the consumer and more freedom, exactly what everyone wants in 2023. Electrica Furnizare has entered a new product category by offering "Solutions for your home" and, since last year, we have started to promote the products that complement utility services (energy, gas). And on the Romanian market there is a tendency to define integrative brands from which the consumer can buy complete, package-type solutions, and we wanted to be in perfect alignment with them," added Corina Vasile, Director of Market Analysis & Customer Experience Electrical Supply Department.
The integrated campaign can be seen on TV, digital, offline and will run throughout 2023.
The following teams worked on the campaign:
Rusu+Borțun:
Cătălin Rusu – Chief Creative Officer
Miruna Macsoda – MD & Head of Strategy
Ștefan Vasilachi – Director de Creație și Art Director
George Herlaș – Copywriter
Cristiana Trifu – Copywriter
Lucia Parapiru – Art Director
Production team:
Octav Gheorghe – Director
Multimedia Est – Production House
Electrica Furnizare:
Corina Vasile – Market Analysis & Customer Experience Director
Mădălina Spânu – Marketing Management Consultant
Alex Vișoiu – Digital Channels Manager
Dan Rădulescu – Senior Marketing Management Consultant
About Rusu+Borțun
Rusu+Borțun is a strategy and creative brand manifestation agency. According to the Art Directors Club, Rusu+Bortun is among the most creative agencies in Romania in 2022. Since 2008, it integrates advertising, branding (through Brand Growers) and digital (through Cyber ​​Growers) services to support the entrepreneurial and intrapreneurial spirit. In 2021, the advertising and identity businesses of Rusu+Borțun exceeded RON 20 million turnover.