Indoor project for Romtelecom, at Afi Palace Cotroceni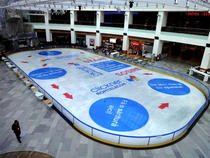 Romtelecom launched recently, together with its advertising agency Graffiti BBDO, an unique project on the local indoor market, branding the entire skating ground inside Afi Palace Cotroceni. The branding is accompanied by a 460 square meters mesh on top.
Afi Palace Cotroceni is the biggest traffic mall in Bucharest, reason why Romtelecom benefits of exposure, daily, in front of a number of 60-90,000 visitors.
Romtelecom worked together with the advertising agency Graffiti BBDO, the media agency United Media and the indoor specialist Brand Management Romania.
Graffiti BBDO is the 1st advertising agency founded in Romania, one of the local market leaders and an agency with a big portfolio of prizes and A-class clients.