Webstock 2020 takes place online, on October 8-9
Webstock, event targeting social media and online communication community in Romania, takes place online, on October 8-9, for the first time in its history.
Same as during the last 12 years, Webstock brings together professionals that made themselves known through courageous projects, models with strong voice in society and people recognized in the online community.
Besides inspiration and good stories, Webstock will bring to the audience the newest trends in social media – new social platforms, innovative content forms, new promo methods – and brands with a strong digital imprint in order to offer useful know-how, case studies and useful info to companies that want to remain relevant in a moment when online becomes a strategic ecosystem with well defined success indicators.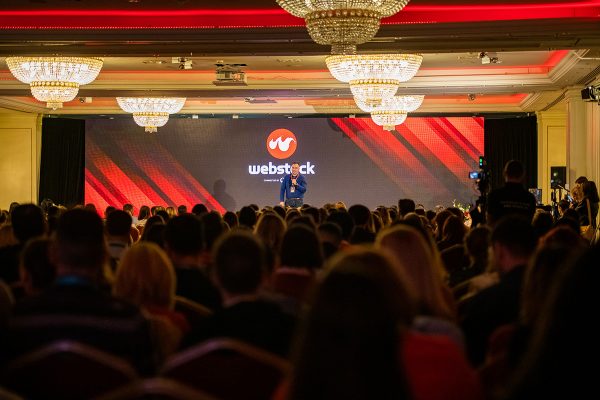 A core subject this year will be visual communication and multimedia formats, no matter it is about TikTok or already heavily used platforms.
Among this years's speakers are Melania Medeleanu (Zi de Bine), Vladimir Draghia (Sportsman & Author), Vlad Petreanu (Journalist), Cabral Ibacka (TV Presenter), Lucian Mindruta (mediaready.net), Cristian Presura (Physicist, Inventor & Vlogger), George Buhnici (Journalist & Entrepreneur), Claudiu Teohari (Stand-up Comedian), Laura Savu (TikTok), Alin Preda (Romanian National Defense Ministry).
Webstock Awards is this year at its biggest edition, with 23 categories, 95 jurors and 385 nominated projects. All the nominees can be seen on the official website. This year, 2 out of 23 categories of the awards are open to the large public, ABSOLUT Online Personality of the Year & Best Independent Publishing.
Webstock is organized by Evensys and Vodafone, in partnership with TikTok, Samsung, George, Mastercard, Bitdefender, Siviero Maria, Absolut, Hp, Campofrio, Coca-Cola Romania, Nespreso, McDonlad's Romania, Answear.ro, Cora, Medlife, Boiron and Carlsberg.