Earthday.org asks the world to stream responsibly to help reduce carbon emissions
Climate change is an increasingly pressing issue in today's society and carbon emissions are one of the main contributors. In a period when consumers are spending more time online than ever before, the world's largest environmental movement Earthday.org and leading creative agency Hjaltelin Stahl, part of Accenture Interactive, want to shed some light on the carbon footprint of online video streaming and its effects on the environment.
Recent scientific reports have proven that video streaming contributes to global carbon emissions. Every time someone streams a video, energy is used to power infrastructure and operations, including mobile networks and data centres. This energy emits carbon and streaming in HD takes four times more energy than streaming in SD, therefore emitting four times more carbon.
Now, the real problem isn't streaming itself, it's when and how we do it. Scientists at the UK's Royal Society say streaming Ultra HD on a phone generates up to 8 times more emissions than standard definition (SD)1. So, avoiding streaming in unnecessarily high resolution helps save emissions. And, on smaller mobile screens, the viewer can barely notice the difference.
So Earthday.org and Hjaltelin Stahl worked together to reposition Standard Definition as the environmental choice, with a refreshed name and branding, introducing Earth Definition, the new standard in streaming and a green alternative to HD. So how does it work? In down-sampling the streaming resolution from High Definition (HD) to Earth Definition (ED) the file size that is transmitted is reduced, which in turn saves carbon emissions. And, on smaller screens, the viewer can barely notice the difference. Earthday.org is also urging the big players in streaming to make a small design change to their video players that could make a big difference – simply by adding a green ED next to the 480p setting, and auto-playing videos on mobile devices in Earth Definition.
To launch the campaign towards streaming users, and deliver the message with least environmental impact possible, Hjaltelin Stahl created a video with a low digital carbon footprint. Avoiding the use of actors and big crews and eliminating the need of flying people around the world, the creative team relied on animation to relay the message. Using a restricted colour palette and concentrating on black and white, the video uses less pixels and draws less energy from the screen, delivering on the promise to keep all elements of the campaign low emission.
Directed by award winning animation director and environmental activist Simon Robson, the film opens with the message 'This video is not available in HD for the sake of our planet', before we hear the calming, but informative, voice of A-list Hollywood actress Michelle Monaghan ("Messiah", "Mission Impossible", "True Detective) who explains how online video streaming has an impact on our earth. The minimalist animation is reminiscent of retro games graphics with a nod towards the 80's grid graphic design, further directing attention to the campaign and giving consumers a better choice.
In addition to creating the campaign film, Hjaltelin Stahl also created a low emission website by eliminating all colour images and disabling the auto play of the film. The site has a cleaner footprint score than 82% of all web pages on the internet, and is running on sustainable energy. Earth Day hopes promoting an eco-resolution for online video use will raise awareness of the environmental impact of streaming – whilst also offering an actionable and achievable solution for those who want to make a better choice for the environment and still enjoy their fail compilations, cat videos, and box-set binges.
Kathleen Rogers, President of Earth Day, adds:

"As our world shifts to an increasingly digital landscape, it is critical to consider the impact our technology has on the environment. Cutting down your digital carbon footprint is an overlooked but significant action individuals and organizations can take to lower emissions. On Earth Day and every day, its vital we all take the necessary steps now to restore our earth."
Adam Kerj, Chief Creative Officer, Accenture Interactive & Hjaltelin Stahl, says:

"This has been in the works for the past 12 months and we're so proud to have been able to collaborate with one of the most credible and impactful organisations out there. We are grateful for our ongoing partnership with EARTHDAY.ORG and that they not only trusted us with bringing Earth Definition to life on this 51st Earth Day, but also driving their goal and mission of diversifying, educating and activating the environmental movement worldwide in over 190 countries."
Tim Pashen, Senior Creative, Hjaltelin Stahl, part of Accenture Interactive, adds:

"Earth Day is the super bowl for the environment. What better moment to raise awareness of the hidden environmental impact of video streaming – something that is not in the conversation yet – whilst offering up a simple solution everyone can do today, without changing telcos, energy companies or internet providers."
Soren Brix, Group Client Director, Hjaltelin Stahl, part of Accenture Interactive, adds:

"We know from consumer research, that people are looking for fairly simple solutions, to act more sustainably. This is what we have created with 'Earth Definition'. With just one or two clicks you can change your quality settings when watching a video on your mobile phone, to help reduce your carbon footprint."
EARTHDAY.ORG's mission is to diversify, educate and activate the environmental movement worldwide. Growing out of the first Earth Day in 1970, EARTHDAY.ORG is the world's largest recruiter to the environmental movement, working with more than 75,000 partners in over 190 countries to drive positive action for our planet.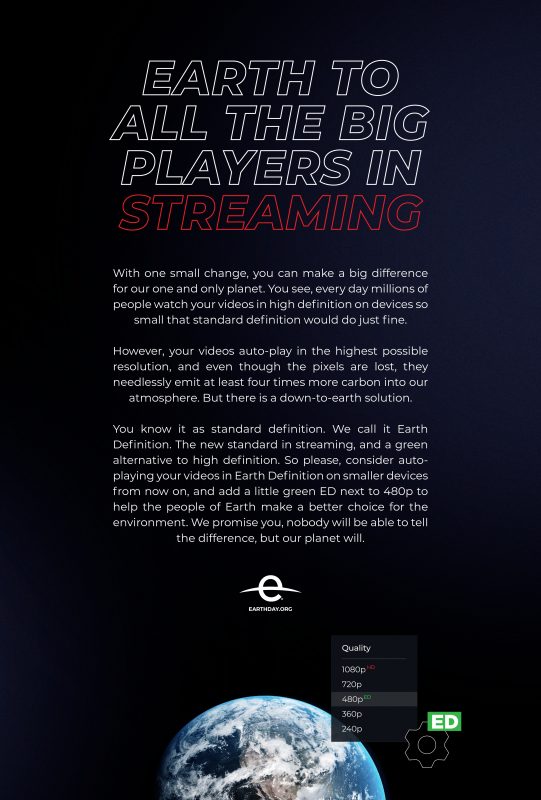 Hjaltelin Stahl is driving sustainable growth through business transformative creativity in everything they do, across the entire marketing eco-system. With entrepreneurial endeavour, intelligent use of data and technology as well as strong creativity, Hjaltelin Stahl merges magic and logic into impactful communications across more media and channels than ever. Hjaltelin Stahl is part of Accenture Interactive and was voted Best Agency in Denmark 5 years in a row and ranks 1st in cross-media integration.
Credits:
Agency: Hjaltelin Stahl, Part of Accenture Interactive:
Chief Creative Officer: Adam Kerj
Senior Creatives: Tim Pashen, Lasse Vintersbølle, Karl Kristian Krarup Kjaer, Nicolai Dimon
Digital Creatives: Mads Clausen, Line Kirstine Torp, Rasmus Frandsen
Group Client Director: Søren Brix
Senior Account Manager: Sofia Brockenhuus-Schack
Group Digital Director: Jacob Benzon
Influencer Marketing: Robert Preuss
Senior Social Specialist: Mads Husted
Director: Simon Robson VO: Michelle Monaghan
Additional Animation: Mighty Nice
Head of Production: Tina Braham
Producer: Diana Angelius
Head of Studio: Jeremy Howdin
Design: Oliver Abbott
Model: Tessa Eden, Michael Shiao Chen
3D Animation: Duncan Maclaren, Michael Shiao Chen
2D Animation: Bonnie Forsyth, Max Wanniaratchy
Light & Render: Trent Rogan
Composite: Gary Fouchy
Sound design & score: JSM Music
CEO/CCO/Co-Composer: Joel Simon
VP/Executive Producer: Jeff Fiorello
Co-Composer: Rebecca Riter
Producers: Norm Felker, Sharon Cha, Andrew Manning
Special thanks: Squeak. E Clean Studios Melbourne
.