Customer Centricity: Measuring Customer Satisfaction Alone Is Not Enough  
Many customer-centric companies use the Net Promoter Score (NPS) or other methods to measure customer satisfaction. But measuring alone is not enough. A study by the customer experience management platform zenloop shows that very few companies follow up their measurements with concrete actions to increase the loyalty of happy customers or improve the experience of dissatisfied customers. 
The topic of customer-centricity is at the top of many companies' strategic agendas. But on closer inspection, "Customer-Centricity" is often nothing more than lip-service. In actuality, only a few companies derive concrete strategies from the customer feedback they collect in order to improve their own products or service offerings. This does not go unnoticed by customers. Often, they feel little motivation to express constructive criticism because they do not expect to receive an answer to their complaints, nor do they feel their feedback improves services, products, or processes.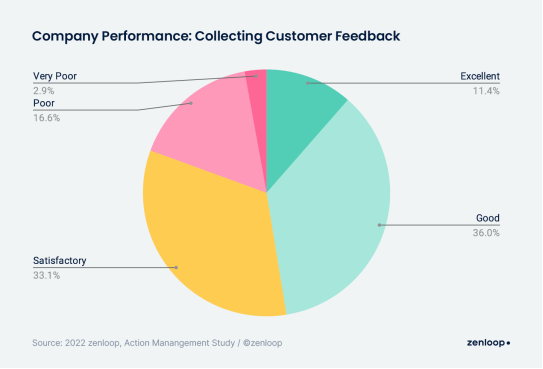 The Berlin-based action management platform provider zenloop wanted to know why it is so difficult for companies to translate customer feedback into action. As part of a comprehensive study to answer this very question, zenloop surveyed 350 customer experience management professionals representing companies of all sizes – from SMEs to large corporations. More than one in five surveyed participants were from e-commerce companies, followed by IT & software, retail, finance and insurance services, healthcare, pharmaceuticals, and medical technology companies. Geographically, three-quarters of the surveyed participants came from Germany, Austria, and Switzerland, and the remainder from 23 other countries in Europe, North America, and APAC.
 The problems begin when collecting customer data
The results show that there is already room for improvement when it comes to collecting customer feedback: Only 12 percent of participants would rate their strategy here as "excellent." More than half (53 percent), on the other hand, consider their own company's approach to this point to be "satisfactory" to "very poor." Many companies complain that too much data is collected, and there are problems centralizing data from various silos. Participants also mentioned that although data is collected correctly, there are no structured processes for deriving action plans from the information.
There is also a lack of proper visualization and presentation of customer feedback, with around two-thirds of respondents (65 percent) seeing themselves at the lower end of the scale. Therefore, only around one-third (37 percent) of customer experience managers believe they can derive "very good" or "good" insights from the data they collect. Only one in four companies say that their insights actually trigger innovation projects, and one-third have established closed-loop processes to inform customers of new initiatives that have been launched based on feedback.
Customer criticism demands a response, but often there is none
Deriving innovation projects from criticism is a fine art within customer feedback management. However, at least reacting to customer feedback in one form or another is not as challenging.
Here, the zenloop study shows a threefold picture. Around one-third of customer experience managers surveyed rated their own company as "very good" to "good" on this topic, with another third as "satisfactory" and the remaining third as "poor" to "very poor." Also, according to the study, an empathetic response to criticism is not enough to make an angry customer feel better. One in two companies said they are "bad" or "very bad" at winning back unhappy customers, and almost one-third (30 percent) gave themselves a grade of "satisfactory." On the other hand, at least one-third of customer experience managers succeed in turning happy customers into brand advocates.
Too much data obscures the view of the essentials
When asked what hurdles make the action management process more difficult, one in two customer experience managers said that information and insights are not distributed to relevant departments in their company. Nearly one in two (46 percent) lack data analysts to collect and analyze data, and more than four in 10 respondents struggle to identify key drivers and priorities. Half of the managers attribute the fact that customer feedback rarely translates into innovations or improvement initiatives to scarce in-house human resources. In addition, there is a lack of focus on the most important measures as well as a dedicated department responsible for such initiatives.
But what can companies do to close the action management gap? One in two customer experience managers believes they need external support in the form of consultants to prioritize and manage cross-functional initiatives. Nearly nine in ten respondents (89 percent) believe dedicated software could help turn customer insights into actual projects. There's no question that the effort is worth it: 95 percent of survey respondents believe the best way for companies to stay competitive is to be able to translate customer feedback into action.
"When you ask companies what their Net Promoter Score (NPS) is, most know the answer. But our study identifies a clear "action gap" in how they handle this customer feedback." says zenloop co-founder Paul Schwarzholz. "This gap needs to be closed to turn Customer-Centricity from lip-service to everyday corporate life."
About zenloop
zenloop is a Berlin-based SaaS company that offers an action-oriented Customer Experience Management Platform. The solution allows businesses to collect, analyze, and automatically translate customers' insights into impactful initiatives. zenloop closes the gap between feedback and action that leads to a perfect customer journey.
As the pioneer in Action Management, zenloop enables top global corporations such as Deichmann, Hello Fresh, Tier Mobility, VW group, Kraft Heinz, Jochen Schweizer, and Henkel to boost customer retention, advocacy, and customer value through CX governance and intelligent automation.
zenloop was co-founded in 2016 by Paul Schwarzenholz (CEO), who had previously launched and sold flaconi – Germany's largest online beauty product retailer – to ProSiebenSat1. The company now employs approximately 100 people located in different European countries.