4 Romanian jurors to judge at Cannes Lions 2022
4 well-known professional from Romanian communication industry, Dana Bulat, Alina Damaschin, Alexandru Teodorescu and Radu Pilat, will represent Romania in this year's Cannes Lions juries.
Dana Bulat, General Manager United Media Services, is the Romanian juror in Creative Media jury, Alina Damaschin-Ciocirlan, Creative Leader Rogalski Damaschin, will evaluate the entries in PR, Alex Teodorescu, founder Saga, joins the Film jury, while Radu Pilat, Managing Partner Heist Industries, is part of Brand Experience & Activation jury.
Teodora Migdalovici, Festival ambassador and Founder The Alternative School

We are living challenging times, but with extremely fertile ground for innovation. In an industry that is challenged by changes, it is a collective expectation: Let's see how creativity, in different local keys, delivers possible answers to unpreceded contexts. The jurors will have access to interesting works.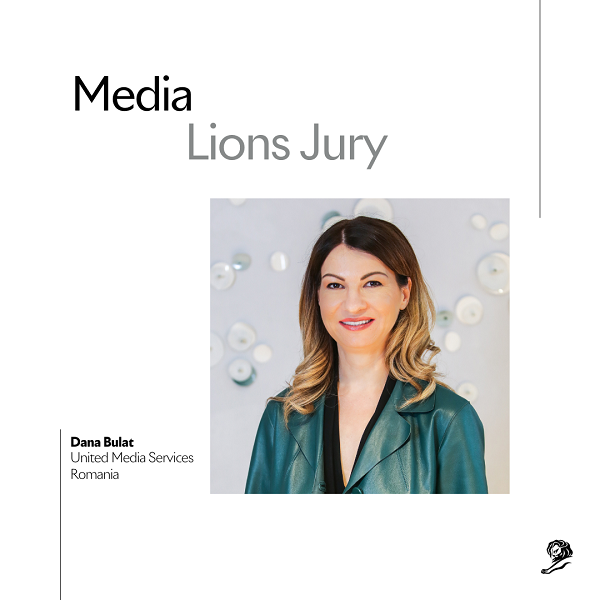 Dana Bulat started her entrepreneurial career by launching United Media Services in 2006, after leading for 7 years a top local agency. Developing digital competencies, from quality content creation to programmatic and lead generation and sales campaigns were in company's focus in 2015, with UMS becoming one of the most influential players in the sector. With many efficiency and creativity awards under the belt, the company was celebrated by AdWeek, which mentioned it in its Top 100 Agencies with fastest growth, in 2020 and 2021. In 2018, Dana Bulat represented Romania at Cannes Lions / Media and was mentor in the #SeeItBeIt program. She graduated an executive program at London Business School.
With 20 years of performance in the Romanian creative industry, Alina Damaschin Ciocirlan contributed to campaigns developed for influential brands or for the most pressing matters for the community. Together with Eliza Rogalski, Alina built one of the most respected independent agencies in Romania and the only Romanian agency that was mentioned in Global Creativity Index by PRovoke two years in the row (2019 & 2020), ranking 3rd in EMEA and 5th internationally. Alina was part of campaigns awarded in Cannes Lions, Effie, Digital Communication Awards, SABRE, European Excellence, IPRA, and is one of the preferred evaluators at Cannes Lions, Eurobest, New York Festival, D&AD Awards or SABRE Awards.
Alex Teodorescu is founder and executive producer Saga Film, the only Romanian company that has in portfolio awards won in Cannes Lions & Cannes Film Festival, together with many awards and nominations at international film and advertising festivals. Alex is one of the pioneers of the Romanian commercial and cinema production after 1989. With a passion for the narrative on screen, teenager-Alex sometimes happened to spend the money his parents were allocating to prepare him for exams to Medical School to watch movies at cinema. He started experimenting production in the end of the '90s with an office in a Skoda car and an incredible amount of passion. Involved in different productions and co-productions for local film and TV productions and co-productions, Saga is today one of the top names of the Romanian production sector, is working for the most influential brands and collaborates with the Romanian Academy of Theater and Film.
Radu Pilat started in 2002, in McCann Erickson's creative team. After 8 years, many awards and work on accounts like Coca-Cola, BURN Energy Drink, Fanta, Sprite, Stella Artois, Golden Brau, Heineken, Tomi, Unilever, Radu accepted the challenge from Momentum to become Chief Creative Officer. In 2012, he wished for more and started his own entrepreneurial adventure: Heist Industries, the only agency specialized in community marketing in Romania, with focus on digital. Heist Industries works with brands such are BURN Energy Drink, Desperados, Birra Moretti, Julius Meinl and Mega Image.