Dua Lipa stars in new TVC created by BETC Etoile Rouge for Yves Saint Laurent Beauté's Libre
For Yves Saint Laurent Beauté, the award-winning Nigerian-British director Jenn Nkiru and Dua Lipa deliver the most epic LIBRE campaign ever, with a new cover song, George Michael's fiery hymn to "Freedom!".
A woman's fearless, exhilarating vision of a woman, the LIBRE woman, shot in a series of majestic images that match Dua's unfettered freedom with the power of natural elements.
Sun, sky, sand, water… The film plays with these forces, cutting between natural and urban environments. Filmed with magical realism, injected with pure mood. Infused with glamour and desirability, as Dua totally owns YSL's couture style at its sharpest, yet raw and elemental.
Expressing the urge to live LIBRE now because freedom doesn't wait.
Music is a powerful vehicle of freedom for YSL Beauty. Along with Dua Lipa, they had a common dream: reinventing one of the great classics of pop music. For the new LIBRE campaign, Dua delivers a brand-new, blazing-hot cover of George Michael's iconic 1990 "Freedom!", turning it into a freedom anthem for LIBRE women throughout the world.
No one could embody the bold, unapologetic, uncompromising femininity expressed by LIBRE with more authenticity than Dua Lipa, the face and voice of the LIBRE woman since 2019.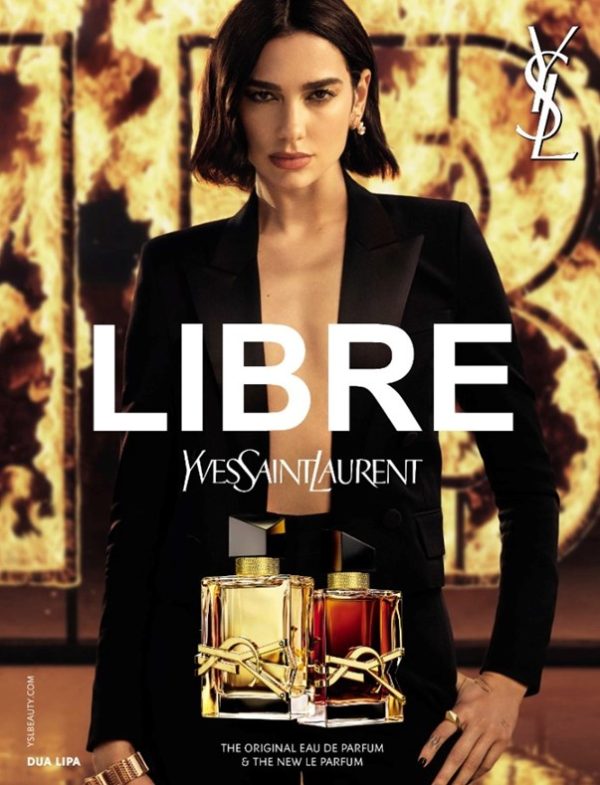 A glamorous, confident beauty famed for her bold fashion statements, the young singer-songwriter – a cultural definer and one of the most streamed artists in the world – is an icon and an inspiration for women around the world.
The LIBRE woman, as embodied by Dua Lipa, is a woman who dances to her own beat and experiences every moment to the fullest. "We walk for our freedom; we fight for our freedom. We feel the need to live, in the most authentic and truthful way possible. I live my freedom being myself, being true to who I am, as a person and as an artist", says Dua.
"It is an incredible experience to endorse a fragrance such as LIBRE. I feel so connected with it because of its fearlessness and its positive values that really resonate around the world. It really inspires me to amplify this idea of this burning freedom, which I'd love each of you to really embrace every day."
A visionary artist exploring identity, Jenny Nkiru is the director of Rebirth is Necessary, a dreamlike art film centered on the magic and dynamism of blackness past, present and future, screened internationally at global festivals and major museums (Tate Modern, London; Museum of Modern Art, L.A…).
Among recent collaborations, she has worked as second unit director on Beyoncé and Jay-Z's video Apeshit, shot in the Louvre Museum.
Jenn Nkiru, director, said: "This film connected with me — a celebration of freedom and femininity. Life and existence are about the pursuit of FREEDOM. Living to the fullest. For me, LIBRE isn't just a fragrance. It's a feeling. An invitation to be bold, to challenge the norm, to live freely. I wanted to bottle up all this energy and pour it over the film."
Credits:
Brand: YSL Beauty
Brand Managers: Stephan Bezy, David Iop, Gustavo Sotero Goncalves, Audrey Ayache, Alicia Jacquet, Giada Ambrosino
Ad Agency: BETC Etoile Rouge
Agency Managers: Delphine de Canecaude, Maud Lambert, Mathilde Durillon, Julia Schenk
Executive Creative Director: Florence Bellisson
Associate Creative Directors: François Pannelier, Adrien Tourneux
Art Director: Jean-Charles Guillet
Music Creative Directors: Adam Ghoubali, Leo Copet
Traffic Manager: Letizia Felici
TV Producer: Fabrice Brovelli
Production Company: Iconoclast TV
Director: Jenn Nkiru
Sound Companies: Benzeme, GUM Paris
Art Buyer: Isabelle Mocq
Photographer: Tyler Mitchell