Fuse toasts Japanese Asahi Super Dry win for Rugby World Cup 2023
Sport and Entertainment agency Fuse has won the global Japanese beer brand Asahi Super Dry's Rugby World Cup 2023 partnership activation following a competitive pitch.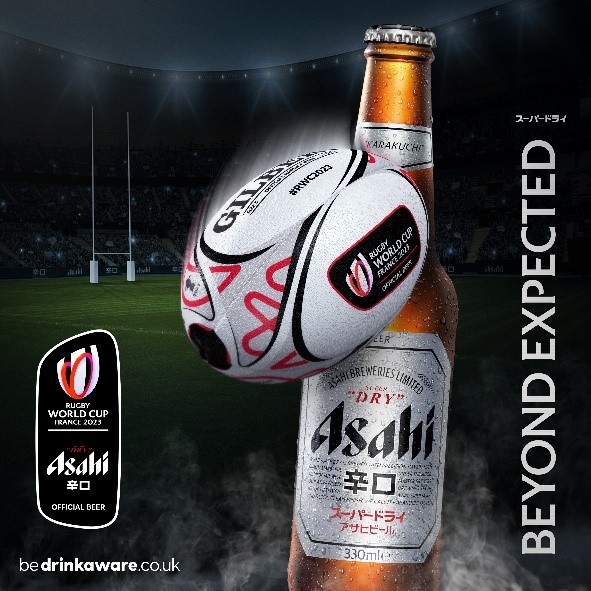 Fuse will work closely with the Asahi Super Dry team at Asahi Europe & International on the global activation of their Rugby World Cup 2023 rights with a particular focus on their key markets of UK & Ireland, Japan, France, New Zealand & Australia. Fuse's remit will include rights management, digital content & PR as well as the end-to-end management of ticketing, hospitality and events programmes across the seven-week tournament in France next year.
Rugby World Cup touches down in France next year from 8 September to 28 October 2023. As a new worldwide partner, Asahi Super Dry will become the Official Beer of the Tournament, with the deal reflecting the brand's ambition to become a leading global beer brand by 2030, using global sports partnerships as a platform to drive scale and trial.
The partnership is an important milestone for Fuse, as the company builds on its strong rugby credentials and major sporting events experience, including the UEFA Champions League & Europa League Finals in May, and Wimbledon this summer in the UK. Its UK rugby experience includes Vodafone x British & Irish Lions, and Royal London x British & Irish Lions. It also has strong credentials in New Zealand and Australia, with All Blacks and Super Rugby.
The win follows a competitive pitch process, which will see Fuse work on a remit that spans partnership management services across global markets and will activate Asahi's core campaign message 'Beyond Expected' across all Asahi's Rugby World Cup touch points.
Victoria Chew, Partner at Fuse, said: "Rugby World Cup 2023 is the perfect event for Asahi Super Dry to embark upon – a progressive brand early in their sport partnership journey. As an iconic sporting event, we want to build momentum and excitement whilst showcasing the brand and product to all rugby fans and guests throughout the tournament.
It's primed to be a great one after France's recent return to form, and as Paris prepare for 2 major sporting events in the next 2 years."
Richard Ingram, Global Brands Director at Asahi Europe & International, commented: "Global partnerships play an essential role in our ambitions to drive global scale and trial. Rugby World Cup is an exciting opportunity for us to showcase the super dry taste of modern Japan to rugby fans around the world. Partnering with Fuse we will offer exclusive in-venue, money-can't-buy experiences for fans and our customers, elevating the occasion and taking consumers on a journey 'Beyond Expected'."
Fuse is a sport and entertainment agency offering marketing and commercial services for brands and rightsholders. It has more than 120 employees in the UK and 250 across EMEA and APAC; its EMEA CEO is Louise Johnson – one of Sports Leaders Under 40. Current clients include PepsiCo, Vodafone, Nissan, Enterprise, Klarna, and HSBC. Fuse's work has been recognised across industry leading awards including Cannes, The Sports Industry Awards and the UK Sponsorship Awards.
Asahi Europe & International (AEI) is part of Asahi Group Holdings, a leading global beer, spirits, soft drinks and food group listed on the Tokyo Stock Exchange. With a rich history beginning in Japan in 1889, Asahi has an extensive footprint across Europe and owns well-loved beer brands as old as 1615. Today AEI runs 19 production facilities in 8 countries across Europe and is the custodian of some of the most famous beer brands in the world, including Asahi Super Dry, Peroni Nastro Azzurro, Grolsch, Kozel and Pilsner Urquell.