ZeList Monitor: Romanian Black Friday, 4 times more visible in 2012 than last year
Black Friday, the American imported event that represents the start of winter holidays discount season, was mentioned 31,457 times in Romanian social media and had a total estimated viewership of 85M. This way, a Romanian internet user was exposed at least 10 times to messages related to Black Friday.
According to ZeList Monitor, most discussions around Black Friday happened on Facebook, where there were 7,655 mentions; Facebook also had the biggest impact, the messages on Black Friday reaching to a viewership of 69M.
Compared to last year, Black Friday was mentioned this year 4 times more in social media (14.149 mentions) than in 2011(3.533 mentions).
Black Friday 2012 was more expected by the potential clients than last year, being mentioned 12 times more pre-event (10,909 mentions) than in the same period of 2011 (897 mentions).
If this year Black Friday was mentioned 3 times more in online pre-event (10,909) than in the next 2 days post-event (3,298), the differences last year weren't significant in what concerns the number of conversations before the event (897 mentions) and post-event (735 mentions).
According to ZeList Monitor, Black Friday was a veritable resistance test both for stores that participated to the event, due to big number of buyers, and for the clients, that had problems in accessing their favorite websites.
The top of online discussions was between November 22nd , 23.00, and November 23rd, 01.00, as the image below shows:

Facebook was the discussion channel of choice, surpassing both traditional press and the other social media channels (as the image below shows)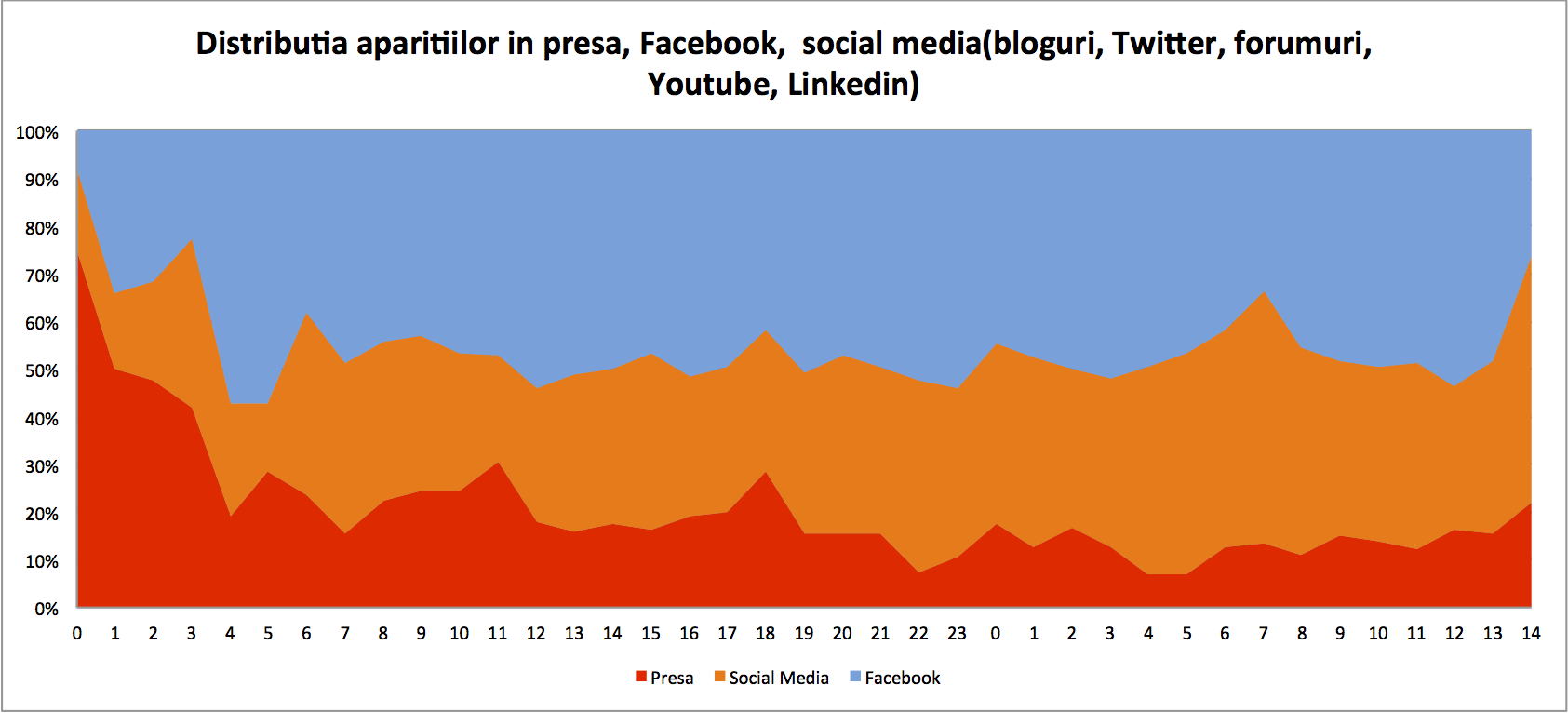 The most mentioned store was eMag, followed closely by Evomag in the top period of discussions. Also in the top of mentions were Altex, Flanco and Domo.
ZeList analysis covers the period 19-25 November and was made following monitoring key words related to the event, with the results being centralized and interpreted. The viewership measures the number of potential visitors that are exposed to a message. In online advertising terms, viewership is similar with the number of impressions (served pages which include ads or messages). Zelist Monitor measures viewership in impressions.
Zelist Monitor, developed and implemented by TreeWorks, represents the most complex solution of social media monitorin in Romania, following over 65,000 blogs, over 57,000 Twitter accounts and 1,200 online media sources, over 2,000 public Facebook groups, over 19,000 public Facebook pages, the most important 58 Romanian forums, over 1,100 LinkedIn groups, over 50 aggregators and 118,000 Romanian channels on YouTube and 224,000 Romanian commentators.