Idea::Bank's launch in Romania, handled by Jazz, Rogalski Damaschin PR, and Magnetic Live
Idea::Bank, part of Getin Holding, one of the biggest Polish financial groups, launched its identity, philosophy and banking offer for the Romanian public, under the slogan "Fresh banking from Poland" and a strategy focusing on unconventional communication
We wanted to illustrate as well as possible in communication Idea::Bank's approach: simple, clear, pragmatic but original and daring in the same time. Moreover, in the agglomeration of communication and messages, the challenge was to differentiate and be visible with an optimum investment. That is why it was natural for us to choose unconventional (from teaser until the press conference's invitation) and online to prepare a launch of impact

Stefania Cristescu

Senior Manager Marketing & PR Idea::Bank

Idea::Bank's story  is a real one, without artifices, metaphors or forced things. The communication and the way it was conceived consider consumers' expectations: clear, transparent and to the point. "New. Simple. Different" are words that define perfectly our status: we unveil the origin and the way of doing business since the slogan and we have the courage to enter unconventional communication channels so the message can reach and be judged directly by clients, without cliches, creative and functional. All those were part of the Idea::Bank launch project, a really different project on which we worked together with partners who understood our desire and translated it into reality in an exemplar manner

Cristina Sacuiu

Head of Advertising Idea::Bank
This is how the "Abandoned Ideas Center" teasing center appeared: a virtual place where people brought the projects that, from different reasons, they couldn't transform into reality. The Center had branches in Romanian blogosphere, with bloggers like Simona Tache, Cabral, Costin Cocioaba, George Buhnici, Alex Ciuca (hoinaru.ro), Marian Enescu (mariciu.ro) and Radu Dumitru speaking about their abandoned ideas together with their readers. With the appearance of Idea::Bank, the center was closed, as people finally found someone that can help them transform their ideas into reality.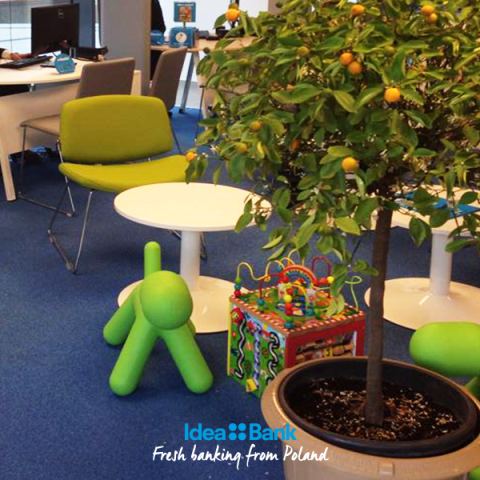 Since receiving the pitch brief, we worked with joy and enthusiasm. We were inspired by the brand and the client, which are really different. And the result is a different kind of campaign for a bank, Starting from Idea::Bank's DNA, we reached to Simplification + Idea::Bank = ideas are transformed into reality into a simple way. So, during teasing, we played with the universal tension that, many times, one has to kill his ideas that can't manage to transform in reality. This is how the Abandoned Ideas Center appeared, where there were available different methods to kill ideas: nasty lines from Micutzu, a Mihai Constantinescu song or pure aggression. The center closed once the bank was launched, as it came with simplified products and services so people won't need to kill their ideas anymore

Andreea Ghenoiu,

Group Creative Director Jazz
In the same time with the teasing, bank's clients received an informational letter written on the label of a bottle of fresh, in which they were announced creatively that their bank changes the identity. The launch press conference brought another innovation in banking communication: synchronizing an event organized in an unconventional space – IDA Center – with a live broadcast over the internet, dedicated to bloggers and journalists from local press.
Credits:
Idea::Bank: Cristina Sacuiu (Popovici) – Head of Advertising, Mihaela Savu  – Head of PR, Andrei Birsan – Marketing Project Manager, Stefania Cristescu – Senior Manager Marketing & PR, Ana Cernat – VP Retail
Jazz: Valentin Suciu – Creative Partner & director, Andreea Ghenoiu – Group Creative Director, Raluca Matei – Senior Art Director, Deiu Stanciu – Copywriter, Mario Nicolae – Art Director, Cristina Lungu – Senior Account Executive, Loredana Banica – Client Service Director, Irina Pencea – Managing Partner
Production house: Alien Film
Rogalski Damaschin PR: Sorin Barariu – Communication Consultant, Cristiana Andrei – Social Media Manager, Eliza Rogalski – Founder, Head of Corporate PR
Magnetic Live (BTL): Raluca Rasadean  – Managing Partner, Radu Rasadean – BTL Manager