Euro 1.7M in sales for Cocor Media Channel in 2010
Cocor Media Channel had sold outdoor advertising space for Euro 1.7M in 2010, 30%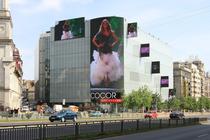 higher than the previous year, according to a press release.
Cocor Media Channel is the only outdoor support in Romania that has a traffic counter. According to data from Bucharest Police, Cocor Media Channel registered, in 2010, a traffic of  33.27M cars.
"The 30% increase of sales is signaling a favorable trend in spectacular digital outdoor, even if the outdoor market went down with over 15%. We adapted to the economical crisis and also offered low frequency packages (…) In December we had a record of sales of Euro 400,000, which shows the growth potential of the media support",  Dan Barbulescu, president of Cocor Sa management board, said.
Cocor Media Channel means 3,300 square meters of lights and LED displays and was launched in December 2008, following an investment of Euro 2.6M.